In Falling for her Fake Fiance by Sue Mackay, with her parents continually hounding her about settling down with a man, Kelli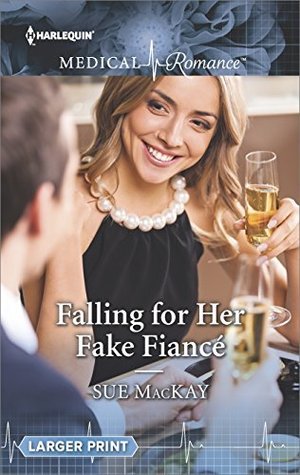 Burnett knows she can't show up to her brother's wedding without a date. So, when she asks Mac Taylor to accompany her, she knows she shouldn't get her hopes up that their fake relationship could have the chance of becoming real. Will Mac be able to let go of his past demons for the pair to have the happy ever after they both deserve, or will Mac lose his second chance at forever after?
"I phoned to tell them they could relax because I was bringing a wonderful man to the wedding who I couldn't wait for them to meet."
"Wonderful, eh?"Naturally he'd pick up on that. He was a man. "Don't get carried away. I could hardly say you were an uptight, pompous type."
"I'm surprised you didn't."
I've read quite a few Medical Romances by Ms. Mackay and I've got to admit that this story encompassing the fake relationship trope was a superb read that I could not put down. The way this story started had me smiling at the conversation the heroine is having with her best friend about her brother's wedding and knowing that she needs a date to stop her mother from setting her up with men that bore her. However, it was from the moment the hero and heroine come face-to-face for the first time in this story where things became very interesting, as there's so much sexual tension between Mac and Kelli that had me wondering when their relationship would progress from platonic to physical. Because he needs Kelli in his life to get over the guilt he's felt since what happened to his wife that has kept him closed off from getting involved with another woman. Will he realize how much Kelli means to him before it's too late?
As for the dialogue, it was riveting and had me hooked because of the main characters back stories; and this couple's growing relationship as they do their best to keep things platonic, so when things come to an end with their fake relationship that there are no hard feelings. Moreover, the dialogue was also intense and emotional when it came to the main characters back stories that had me sympathizing with everything they've gone through. Mac loved his wife so much and not being able to save her weighs him down with guilt. However, there were a few light-hearted moments where Kelli teased Mac about when it comes to meeting her family and whether they'll be able to fool everyone.
When Mac paid for their meals Kelli got cross. "I pay my own way."
"I'm your partner in crime. I don't let any woman I'm out with pay her own way."
"We're not partners tonight," she snapped.
"Get over yourself, because next I'm driving you home. If you're not happy about that then think of it like this. I'm getting into the role for the weekend." No smile now.
"What? A bossy role?" she half meant it.
"That'll give you reason to dump me afterwards."
Both the main characters were likeable, relatable and thoroughly entertaining, as to were the secondary characters in Kelli's family that certainly bring a little extra something special to this story with their love for Kelli and her happiness. Will they give Mac their stamp of approval when it comes to his relationship with the heroine? Furthermore, the heroine is resilient, courageous and I liked how determined she was to show her family she was happy, even though it seemed she was the odd one out because all of her family work for the family business where is she's a nurse. I also liked how hard-working she is, which is proven by all that she does for her patients. While the hero, he's hard-working, determined to help the heroine and I liked how he won her family over since it's palpable he cares a lot for the heroine, which is important to her family.
Overall, Ms. Mackay has penned a superb and engrossing read in this book where the chemistry between this couple was powerful; the romance wonderful and showed off how special the hero thought the heroine was; and the ending had me liking the hero more than I already did, because he realized love was worth fighting for and that second chances are possible. I would recommend Falling for her Fake Fiance by Sue Mackay, if you enjoy medical romances or books by authors Lucy Clark, Alison Roberts, Annie O'Neill and Carol Marinelli.
Book Info:

Publication: September 19th, 2017 | Harlequin Medical |
A temporary arrangement…
Kelli Barnett invented a partner to avoid her parents' matchmaking schemes. So, when her boss Mac Taylor—the man whose kisses once made her melt—offers to step in as her fiancé for a family wedding, Kelli snaps up his offer!
Widower Mac believes himself incapable of loving again. Until playing Kelli's fiancé at the beautiful island retreat throws his senses into overdrive. But Mac must learn to let go of the past for this fake relationship to have a real future…