Falling for Her Rival by Jackie Braun: Who knew a game of Rock, Paper, Scissors would be only the first competition of many for Finn and Lara?
A kiss for good luck. That's what Finn asked for as she was whisked away in the cab that would have been his. It was kinda crazy, since he really needed to be at the competition. It was going to be a jump-start for the rest of his career, and the woman he just watched drive away took his mind off the prize for a minute. The rain sobered him up quickly enough to make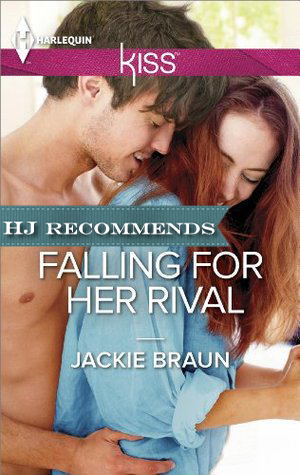 it in time for his spot on Executive Chef Challenge – where he was shocked to see 'Paper' was one of his co-competitors.
Lara knew lying to get on the show was a horrible thing to do, but she'd run out of options. This was her one shot to get close to Clifton Chesterfield and the restaurant that should rightfully be hers. she'd made horrible mistakes – that she knew. But it was time to make amends. Lara couldn't help that Clifton wouldn't do his part and she had to compete on the show to prove her worth.
When Lara is outed just before shooting starts, the production is halted for a couple of weeks so the network can regroup and decide what to do with Lara's spot on the show. Since it appeared she'd been taken off the show for good, all bets were off. Finn went for it. They started a relationship and it took off fast. They both fell, and they fell *hard*.
Then the hiccup. After a few ignored calls the night before taping was supposed to begin, Finn arrives on set to find none other than Lara – back to regain her spot on the show. He'd already been burned badly by an ex who just happened to be a chef, and it seemed like it was happening all over again. Finn had to wonder if she'd been playing him all along. And Lara had to put aside her pain from Finn's rejection to win the competition and show Clifton she deserved her rightful place at Chesterfields after all.
I really enjoyed this story, and the only reason it didn't get a full five stars was that I thought it could have used a bit more steam. The relationship was very realistic, but I prefer to see a little more 'behind the scenes' in the bedroom than was included in this book.
Finn was just a gorgeous character, inside and out. (I mean, get a load of the cover!) And his attempts to help Lara achieve her goals are heartwarming – even if he doesn't understand how hard it is to repair her relationship with Clifton.
The fact that they're both deserving of the top spot on the show was a given, but I didn't feel the added complication of the angry and confrontational Ryder was totally necessary. Perhaps a third – only slightly less deserving, slightly sympathetic competitor? I dunno. I just hated Ryder.
In Summation – great story, amazing characters, but perhaps the burners could've been turned up to medium or high. 🙂
Book Info:

Published June 1st 2014 by Harlequin KISS
You know what they say about playing with fire…
For chef Finn Westbrook, it's time to turn up the heat. Three years ago he hit rock bottom. Now he's ready for a comeback, starting with winning a TV competition to secure a spot running New York's trendiest kitchen! He just didn't count on his attraction to rival Lara Dunham burning a hole in his plans….
Lara has worked her apron off for this opportunity, and total focus on the competition was the plan – which is difficult when all she can think about is wanting her opponent out of the kitchen and in her bed! But there can only be one winner, and sometimes, to win, a girl has to play dirty!