Now this is my kind of romance novel. Falling For The Best Man by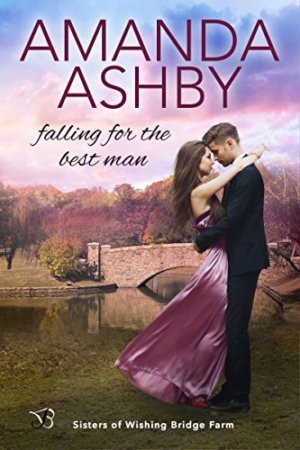 Amanda Ashby drew me in from the first page, and kept my attention, the entire length of the book. The two main characters are from a different world, yet, they are each other's soulmates, no matter how much they do not want to admit it.
The conflict is real, and understandable, from both sites. What was refreshing was, that the intimate scenes were toned down, so if you prefer cleaner (not completely clean) fiction, this book is one of the better ones in this category.
I am a fan of second chance romances, which offer much tension to explore. The conversations between Christopher and Emmy were believable on all ends.
I also loved Emmy's sisters, and hope that we will read more of what was hinted about them in the upcoming books. Both of them are as well developed as Emmy's character but are completely different from her. I love that Amanda Ashby did not make them two-dimensional either, giving them a chance to grow, change and do the unexpected, even if this was not their part of this series.
Falling For The Best Man was funny, flirty, and at times unexpected, even though it dealt with more serious issues like Emma trying to keep her family's farm from getting sold right out from under her. She wants to hang on to the memories of her Great Aunt, by taking care of her legacy, while her sisters have a completely different idea for the place, they inherited together. And of course, Christopher makes everything even more complicated.
I am looking forward to the next part of this series.
Book Info:

Publication: January 9th, 2017 | Entangled Bliss | Sisters of Wishing Bridge Farm # 1
What's worse than running into your ex-hookup at the airport? When said 'hookup" is the best man for the most important wedding of your career, and he's on the hunt for a fake girlfriend. Between a hysterical bride and a wedding party gone wild, wedding planner Emmy Watson can't afford any more disasters if she wants to save her beloved Wishing Bridge Farm. Which is why she puts the best man on lockdown. Unfortunately, he also happens to be the one guy who can make her forget everything except the way his kisses make her feel.
All Christopher Henderson needs is a fake girlfriend to convince his bosses that his bad boy reputation is a thing of the past so he can land his dream job. What better place to find said companion than at a wholesome vintage wedding. The only thing he didn't count on was seeing Emmy, the woman who dumped him. The one he hasn't been able to get off his mind.
There's no denying the spark between them, but he's a globetrotter and she's a homebody, and falling in love is something neither of them has in their plans