In Falling for the Foster Mom (Paddington Children's Hospital #4) by Karin Baine, after many years raising his siblings, Matt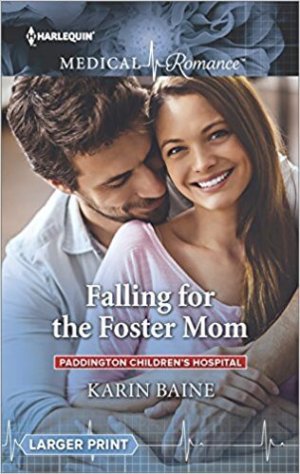 McGrory is determined to finally have some time to himself now that his siblings no longer need him as much. Except he never expected to meet Quinn Grady and her foster son, Simon; a young boy that is going through a tough time after an accident that has left him scarred and afraid to interact with many people. Will Matt realize that he wants Quinn and Simon in his life before it's too late, or will his need for solidarity force Quinn to make the hardest decision she ever thought she would?
She backed out of the room with a snigger. "So, basically, you're a granddad?"
Matt rolled his eyes and closed the doors softly behind him. "See? This is why I don't generally share the details of my personal life. It changes the way people see me. I have two sides. To the outside world I'm a young, single, successful surgeon. To my family, I'm an agony aunt and a doting uncle. I don't tend to let the two worlds collide."
"And which side am I seeing?"
This is the fourth book of the Paddington Children's Hospital series; a series consisting of six books all penned by different authors, and I've got to say Ms. Baine has penned a heartwarming and charming read in this story. That is about a heroine wary of giving her heart to another man after what the last man she was with did, a hero that is free to do whatever he wants besides his work as a surgeon now that he's free of the responsibilities he had to caring for his siblings, and a young boy that's struggling to deal with his injuries and needs the comfort of those that care for him.
The way this story started had me empathizing with the heroine because of what her foster son is going through and Quinn finding it hard to connect with him. The young boy hasn't had it easy and the heroine is determined not to be someone that ends up disappointing him just like those that are supposed to love him have. Indeed, she's honorable, kind and determined to be a good foster mother just like her own was, and I could understand why she was willing to accept help from the hero, even though it wasn't easy for her. Matt has such a wonderful rapport with the child.
She shook against him, her sobs wracking so hard through her petite frame he was afraid she might break. "I. Wish. I. Was. More. Like. You," she hiccupped against his chest.
"I've never performed a sex change and I think it might be weird if I started making clones of myself," He wanted to add that it would be a shame to tamper with the beautiful body she'd been given but it sounded inappropriate even in a joke.
While Matt, he's kind, caring, hard-working, and I liked how he was willing to help Quinn's foster son, even though the young boy could get attached and end up believing Matt would be around all the time. Moreover, I could understand why he wanted time to himself after years of raising siblings, and yet, I liked that he found it hard to fight his attraction for Quinn. She's everything he'd want in a woman, if he wanted a relationship. But what I liked most of all is the growing bond between Matt and Simon and that the hero would do anything to protect him, which is proven when Simon faces unpleasant scrutiny by people due to his injuries.
Overall, this was a really good read that entertained me with its dialogue and was a story about hope, finding the right person and giving a young boy the family he deserves. The chemistry between these two was wonderful, although both were wary of giving a relationship between them as try. As Quinn was certain Matt wouldn't be able to give her the kind of relationship she wanted, because he wants a life without children for now and she has Simon. The way this story ended had me smiling, as Matt experienced a situation he's not used to while in surgery. Will it make him realize how important Quinn and Simon are to him? I would recommend Falling for the Foster Mom by Karin Baine, if you enjoy Medical Romances, the friends to lovers trope or books by authors Fiona Lowe, Carol Marinelli or Kate Hardy.

Book Info:

Publication: May 1st, 2017 | Harlequin Medical | Paddington Children's Hospital #4
A family for the bachelor doc?
Burns specialist Dr. Matthew McGrory is finally living the bachelor life after years of responsibility raising his siblings alone. But he can't ignore the pull he feels toward beautiful Quinn Grady, foster mom to his favorite young patient.
Having learned the hard way that you can't rely on other people, Quinn is überprotective of little Simon, and her heart. But as Matthew's hero status grows in the eyes of her young charge, she just might find he's the hero she's dreamed of, too…