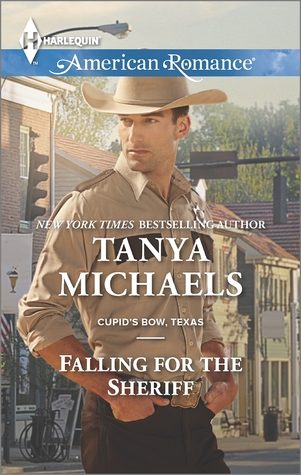 Falling for the Sheriff by Tanya Michaels: What happens when a widow and a divorcée are placed in close proximity to one another? Along with a teenage boy and twin 5 year girls? All sorts of mischief and mayhem.
Kate Sullivan knew it was time for a change. When she lost her husband a couple of years ago she didn't think life could get any worse, but she kept living, after all she had her son to consider. Now thirteen she knew she needed a change to make sure she didn't lose him, so it was time to move back home.
Sheriff Cole Trent had his fair share of women throwing themselves at him despite being a divorcee and the father of young twin girls. The problem was he didn't feel anything for any of them other than a little bit of almost fear. So when his mother and her friend try to set him up with a woman he has a bit of a spark with he forms a bit of a plan.
With a bit of convincing Cole and Kate decide to spend some time together and hopefully get their elders off of their backs and stop them from throwing potential spouses at them. However what happens when sparks fly and there aren't always little chaperones around? Will it be forever love? Or will fears and insecurities make a relationship not viable?
This is overall a great book. It's got sweetness with reality and is truly a realistic approach to a relationship. It moves fairly quickly but Ms. Michaels does a really wonderful job giving you details and making you fall in love with these three younger ones almost as much as you do with the main players. The story does focus on two people who have loved and lost but who are also real and understanding of the realities of life. Pick this up for a good read that will have you sighing at the end of day in a very happy and contented way.

Book Info:

 August 4th 2015 | Harlequin | Cupid's Box, Texas
A FRESH START
Widow Kate Sullivan moved to Cupid's Bow, Texas, to get her teenage son on the right path. But their new life in the small town gets off to a rocky start when her son is caught shoplifting by the sheriff. Kate is immediately attracted to Cole Trent, but she's not ready to fall in love again, and certainly not with another cop.
Cole should have known Cupid's matchmakers would scramble to fix him up with a smart, beautiful woman like Kate. The single dad has managed to evade their efforts until now, so he and Kate come up with a plan to keep the matchmakers at bay. Pretending to be a couple was a good idea, until Cole realizes his feelings are anything but pretend. Can he convince Kate to give their romance a real chance?