Fast Track (Buchanan-Renard #12) by Julie Garwood: Julie Garwood introduced this reader to the romance genre – so I owe her a lot of gratitude. I own every book she has ever published. While I enjoy her medieval, regency and western novels it is her contemporary writing that really resonates. I recommend that all romantic suspense readers give the Buchanan-Renard series a chance. Each installment is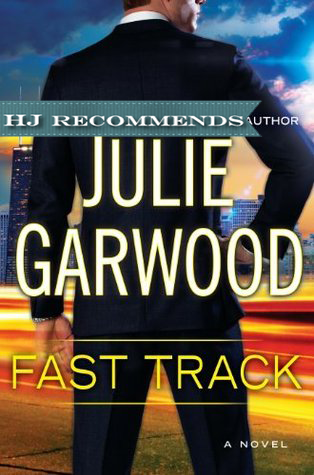 stand-alone with connecting characters.
Fast Track connects with two preceding installments; Murder List (Regan Madison & Alec Buchanan) and Fire and Ice (Sophie Rose & Jack MacAlister). It has been awhile since readers were first introduced to these three best friends, but I believe that the timing of Cordelia's story is ideal. It also gave the perfect excuse to go back and reread Regan & Sophie's stories – not that I really needed one.
"The three friends couldn't be more different – acquaintances usually categorized Sophie as the uninhibited one, Reagan as the sensitive one, and Cordie as the scholarly and practical one – yet when they were together, they were an unshakeable unit."
Deathbed confessions never seem to be good news – so when Andrew Kane, Cordie's father, reveals a long kept secret her entire world is shaken. It ultimately puts her life in danger; luckily she has her very own Prince Charming to keep her safe. Cordie has been in love with her best friends' oldest brother, Aiden Madison since she was five years old. The burial of her father inspires Cordie to make some changes in her life – new job, relocating to a new city and finally getting over her lifelong crush.
Aiden is known for his impeccable business sense – he is all business, all the time. However, the moment he learns of the death of Mr. Kane he rushes to Cordie's side. His complete focus quickly shifts from business mode to swoon. Lucky for us he still has two single brothers, Spencer and Walker, which will hopefully be featured in upcoming stories.
The writing is flawless; the author jets readers around the world and back without a hitch. I enjoyed the subtle romantic undertones that fit seamlessly into the overall storylines. Fast Track is yet another winner from a favorite author. Recommend to anyone looking for a relaxing afternoon read.
Book Info:

Publication: July 29th 2014 by Dutton Adult | (Buchanan-Renard #12)
A corrupt congressman, a mother's secrets, and a sizzling romance ignite passion and suspense in the new novel from #1 New York Times bestselling author Julie Garwood.
Cordelia Kane has always been a daddy's girl—her father raised her alone after her mother died in a car crash when Cordelia was just two years old. So when he has a serious heart attack, Cordelia is devastated, and the emotion is only intensified by the confusion she feels when he reveals the shocking truth about her mother.
Cordelia can't suppress her curiosity about the woman who gave birth to her, and when she discovers the answers to her questions lie in Sydney, Australia, she travels there to get them.
Hotel magnate Aiden Madison is Cordelia's best friend's older brother. He's oblivious to the fact that she's had a crush on him for years. When he gets railroaded into taking her along to Sydney on his company jet, he unknowingly puts her life at risk. He's recently angered a powerful congressman by refusing to purchase overvalued land. Congressman Chambers is not a man to let such an offense slide, and he has the resources to get even and to get what he wants.
In Australia sparks are flying between Cordelia and Aiden, but multiple attempts on Aiden's life are made while Cordelia is with him, and he realizes he must put a stop to the madness before he loses the thing he values most.