Fatal Affair by Marie Force: Detective Samantha Holland is assigned to the high profile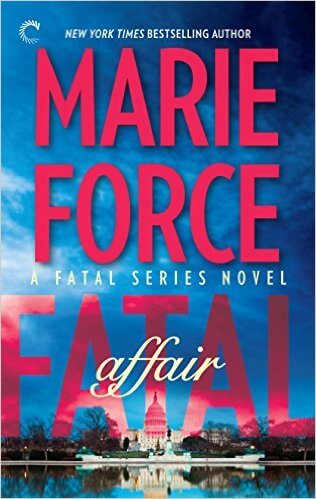 murder case of a senator – a gruesome murder that starts off Fatal Affair and drew me right into the plot. Sam has had her fair share of bad press lately, and this investigation is a way to redeem herself not only in the public eye, but in her own eye. This case also brings her back in contact with Nick, an unforgettable 'what if' one night stand from six years ago. Nick was the senator's chief of staff and best friend, so he is just as involved in his murder as Sam is…only from a different perspective. Nick is shocked to be facing the woman he's never forgotten at one of the worst times in his life, and despite this, the unanswered questions and unresolved feelings for both of them are still burning hot.
Sam knows the last thing she should be doing is getting involved with a witness from a crime she's investigating, especially this one at this time. They are suddenly seeing a lot of each other, and as much as Sam tries to keep Nick at arms length, neither of them can stop the intensity of their attraction to each other. Trying to keep their growing relationship a secret, Nick becomes more involved in the case with Sam. As she and her partner Freddie work to try to solve a murder, danger seems to be only getting closer. Digging deeper, secrets come to light, and more people are dying. At the same time as all this is happening, Sam is suddenly faced with even more unknowns and unanticipated events, taking the reader on a thrilling, mysterious adventure.
Can Sam and Freddie find answers and put this case to rest? Will Nick and Sam get a second chance together, or is her job and his involvement too much?
I really like Sam and Nick as the hero and heroine in Fatal Affair. They felt real because they've both had their issues in the past, things they are dealing with in the present, and all of this is impacting on their future. Sam is smart, determined and she works hard. She doesn't easily fall into Nick's arms again, she struggles a lot with internal conflict and the line between personal and professional. That felt believable, and I liked how Sam dealt with this. Nick seemed to have a harder time pulling back and giving Sam space. I felt like he didn't quite understand the conflict and the possible fall out. His feelings and that he cares for Sam are very obvious though, and I did like how he was with her. Even though he wanted more, he respected Sam's needs. I felt like I had just enough background on these two separately to understand how they are today. I liked the connection I could feel between them from the start, and the interactions between them were at times humorous, heart warming, and heart stopping!
Their relationship and the suspenseful plot worked very well together, neither one overwhelmed the other and I felt it was a great mix in this plot. The mystery of Fatal Affair is very intriguing, and Marie took me on quite the ride trying to figure out who did it! With unexpected plot twists and characters, it was not an ending I saw coming although it did make my heart hurt a little bit. Marie made me feel for the characters of the book, good and bad.
There is a great cast of secondary characters in Fatal Affair, and I liked how Marie wrote them into the plot. She didn't overwhelm us with characters we might get to know later on in the series. All of the secondary characters have some relevancy to the plot, I liked the interactions between all of the characters, and I do look forward to seeing more of some of them in future Fatal books.
Marie writes with good detail, and I really like her smooth writing style. Leaving the past where it belongs, second chances, suspense and intrigue, Marie gave me a bit of everything in Fatal Affair. It was an easy book to become entranced with, and I couldn't wait to see how things worked out, from the murder case to Sam and Nick's relationship. I'd recommend Fatal Affair to any romantic suspense reader.

Book Info:

Publication: June 21st 2010 | Carina Press | The Fatal Series #1
Washington, D.C., Metro Police Detective Sergeant Sam Holland needs a big win to salvage her career–and her confidence–after a disastrous investigation. The perfect opportunity arises when Senator John O'Connor is found brutally murdered in his bed, and Sam is assigned to the case. Matters get complicated when Sam has to team up with Nick Cappuano, O'Connor's friend and chief of staff…and the man Sam had a memorable one-night stand with years earlier. Their sexual chemistry still sizzles, and Sam has to fight to stay focused on the case. Sleeping with a material witness is another mistake she can't afford–especially when the bodies keep piling up.