In Fearless by Tawny Weber, Gia Reynard has a job that she likes, terrific girlfriends and a nice place to live. Once a month, she and her three closest friends from college get together for some culinary delights, endless margaritas and lots of girl talk. They chat about everything and tonight's conversation somehow gets focused on Gia and her fantasy to have a wild sexual rendezvous withLuke Monroe, a distant coworker and one of the sexiest men she has ever seen. Gia would love to ask him out, but she is shy and her company's fraternization policy prohibits relationships in the workplace. So the girls put a plan into action so that Gia can experience her fantasy.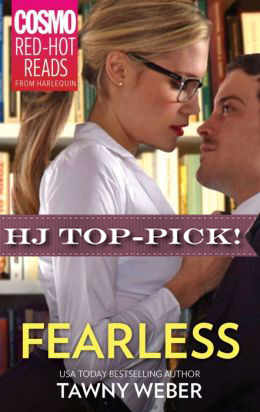 Gia believes she is ordinary and average, nothing special. However, her friends and colleagues see just the opposite, a nice looking, smart woman that thinks outside of the box. Gia knows that if she makes her sexual fantasy come true, she will able to conquer whatever life throws at her.
Luke is the golden boy of Tri-Solutions. He worked his up up from a techie to a systems liaison in a very short period of time. He is well-liked and his talents are known outside of the company. However, Luke is bored. He likes his job, but it is not challenging enough. He is seeking new opportunities both professionally and personally.
So that Luke will not recognize her, Gia treats her and her ATM card to a complete makeover. Enticing clothes, lingerie, hair color and long hair extensions, which along with her new found courage, transforms her into Vanna, the sexual vixen. She follows Luke to a convention in Las Vegas with plans to have her way with him. Vanna's seduction techniques work and Luke is captivated. Mind-blowing sex and multiple orgasms occupy the evening. For the first time ever, Gia challenges herself as the sexual alpha and Luke accepts the challenge of being the non-aggressor. A match made in heaven.
However, their erotic evening converts lust into real feelings for both of them. Unable to handle her emotions, Gia leaves before the sun rises. Luke is left with a blindfold and a broken heart. The situation only worsens when Gia gets promoted, and consequently gets assigned to a techie project that Luke is leading. Scared to death of her feelings and that Luke will recognize her, she telecommutes and deals with him via email, text and phone. She avoids in person meetings at all costs. Her work is impeccable and Luke wants to talk to her about it in person. Luke has become suspicious of Gia's avoidance antics, as well as how familiar her voice sounds. He is able to figure out that Gia is Vanna.
When the moment of truth finally arrives, they give into their feelings and never let go. Passion on the desktop has never been sweeter.
I loved this novella. The beginning scenes involving the four women laughing and sharing, reminded me of the very successful Sex and the City TV series. So right off the bat, I knew I was going to enjoy this book very much. This short story is well written and the characters are extremely likeable. I loved the way both main characters evolved into the people they truly wanted to be. I highly recommend this book.
Book Info

Publication Publisher: Cosmo Red Hot Reads from Harlequin Date: September 15, 2013
Promising career: check
Amazing apartment: check
The best of friends: check
Sex life: MIA
There's just one thing missing from Gia Renyard's life: sexual adventure. And the one man she'd like to have it with is her hot coworker Luke Monroe. If only company rules didn't prohibit her from asking him out… So Gia comes up with a plan: make herself over into a fantasy seductress, follow Luke to a convention in Sin City and have her way with him for one erotic weekend. The man will never even know who did him.
Everything is going according to plan—until Gia discovers that Luke is perfect for her outside/em> the bedroom, too. And suddenly she's no longer content to let what happens in Vegas stay in Vegas….