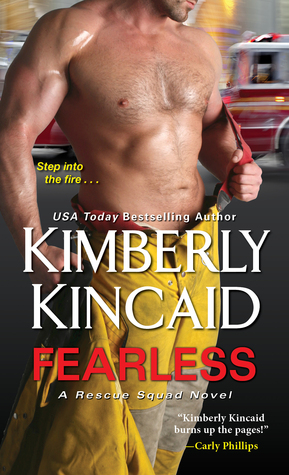 Fearless (Rescue Squad #2) by Kimberly Kincaid is amazing! It is another hit in the Rescue Squad Series. As with other books this one can be read as a stand alone without losing the reader. This amazing story is that of Cole and Savannah.
Cole Everett has spent the last 8 years working in Station 8 as a firefighter. He loves his job and the career that he has chosen. But what he really wants, what he has been working towards is a coveted spot on the elite Fairview Rescue Squad. When an opening becomes available, Cole is the man for the job, but before they can let him leave, he must train his replacement. He is up for the task, knowing that his goal is in sight. What he does not count on is that his replacement would be a woman, and the sexy Savannah Nelson at that.
Savannah Nelson is the only girl in a family of male firefighters. It is in her blood, and she wants nothing more than to follow in the family business. Leaving her home and her family to make a go of it where her father's influence cannot sway decisions, she will do whatever she can to prove her worth and prove that she has what it takes.
As Cole and Savannah train together, they begin to confide in each other, and the lust and feelings that they feel for each other take over. Knowing that they need to keep their relationship under wraps, as they both are in the same house, when they are at work they are all professional, but in private, they set off alarms. When a string of fires raise suspicions, Cole and Savannah start to look a little closer, but when Savannah is hurt in one, Cole will stop at nothing to bring the person to justice, even it is cost him everything he has ever worked for.
What I love about Cole and Savannah is that they both have each others backs. They are both honest and just want the best for the station, expect the best out of themselves. I loved how Cole helped Savannah through her fears and doubts, and how Savannah was willing to risk her career to make sure that Cole's place in the station and on the Rescue Squad was not lost.
Another amazing addition to another amazing series. If you enjoy HOT hunky fireman who can set off alarms with a smoldering look, you will need to get this one.
Book Info:

 Expected publication: July 26th 2016 | Zebra | Rescue Squad #2
The Temperature Is Rising…
Firefighter Cole Everett's life revolves around the firehouse. Committed to saving lives–and to the guys who always have his back in the most dangerous moments on the job–Cole's focus is a coveted spot on the Fairview Rescue Squad. When his captain asks him to mentor a rookie firefighter, he jumps at the chance, hoping it will help to prove his skill. But the new "guy" is none other than Savannah Nelson, a female firefighter as stubbornly determined as Cole is, and a whole lot curvier in all the right places . . .
Savannah won't let anyone extinguish her dream of fulfilling her family legacy and becoming a top notch firefighter–and she's happily surprised when strong-willed, sexy Cole is willing to give her the chance she deserves. Concentrating on the job isn't always easy when the heat between them flares higher every day, but Savannah won't give up–not even when one of Station Eight's veterans seems bent on trashing her reputation. To stop a string of possible arsons, Savannah and Cole will need to eliminate every distraction–but can they let their love go up in flames?