Feels Like Home by Lisa Ireland: I enjoyed the characters in this story. Ryan, a single father,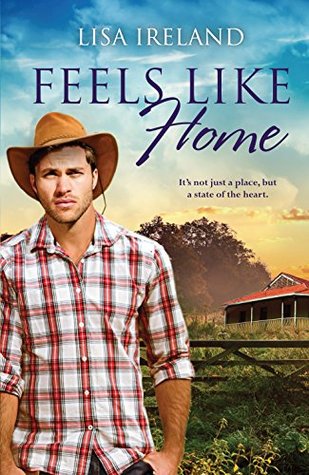 struggled between the feelings he always had for Jo and if Jo was the best possible mother figure for his daughter, considering she had no desire to have children.
Jo returned back to her native country for her best friend's wedding. She fights her feelings for Ryan, believing he had betrayed her years before. She has to come to terms with her mother's illness and her actions years earlier, while struggling to accept Ella as part of Ryan's life.
They both have to come to terms with their past relationship and learn how to trust each other again. It's a difficult road, but they maneuver it beautifully.
My issue with the book wasn't the story or the characters, but more the formatting. (The copy I reviewed was a NetGalley ARC). There were times when one character was speaking and another would start to speak, but they were in the same paragraph. It made it difficult to tell who was actually speaking and there were a couple of times I had to re-read the paragraph to sort out the speakers so it made sense.
If these issues didn't exist, I would have rated this book higher. Hopefully the formatting issue is limited to the ARC and the final published copy is a much easier and enjoyable read.
Book Info:

July 1, 2015 | Escape Publishing
When celebrity novelist Johanna Morgan surprises everyone by arriving back in Linden Gully three weeks early for her best friend's wedding, she's shocked to find her ex-boyfriend Ryan Galloway is back too and well-integrated in the community as the local vet.
Jo's maid-of-honour duties are not the only thing that's brought her home. The family homestead of Yarrapinga is now her responsibility, and Jo needs to decide whether to keep it – and replace old memories with new ones – or sell it and cut off all ties to her childhood and her home.
Ryan has brought his young daughter home to Linden Gully to provide stability after the death of her mother. The last thing he needs is Jo's return, and all of the emotional turmoil that she brings with her.
Thrown together as attendants at their best friends' wedding, Jo and Ryan have no choice but to grin and bear all the tension. But it's not only resentment lingering between them. The attraction is still there, and the heat and the memories.
They say you can't come home again, but maybe, for Jo and Ryan, home is not just a place, but a state of the heart.