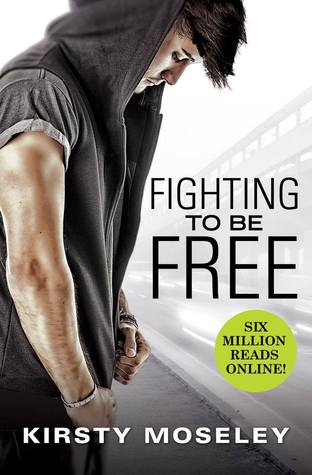 Fighting to Be Free by Kirsty Moseley: Jamie is fresh out of juvie and ready to turn his life around. He knows that he needs to make some changes in his life to make sure he can have a second chance. Jamie is really mature for being 18 and that's due to his painful childhood where he was really more the adult. Now that he's out, he's also determined to go straight. He had turned to a life of crime as just as a way to survive. He ended up finding acceptance, family, a love of cars, and a talent for stealing them.
Ellie is the head cheerleader at school. She's one of the popular kids with her football player boyfriend. Except Ellie had hit her limit and ended the only relationship she's ever had. She's looking forward to enjoying the single life as she tries to figure out what she wants to do with her life and where to go to college.
Jamie and Ellie are complete opposites. When he comes to her rescue one night, both are surprised by the attraction. They have a great night, but Ellie really isn't looking for more than what they shared. They end up transitioning to friends as both could use someone different in their life.
"But what?"
I took a deep breath. "Ellie, I'd just love to take you as a date. Like a proper date, as a couple. Like, as your boyfriend."
A smile pulled at the corners of her mouth. "Seriously?"
Being just friends only lasts for so long. Jamie knows that he doesn't have much to offer Ellie, but he wants to be a better man for her. They have a great relationship and they pay attention and understand each other. When Jamie's past comes back to haunt him, he struggles to balance the life he wants to have and the life he can't quite escape.
"Why do you never react the way I think you will? You confuse me so much," he whispered.
I smiled sadly as he ran his fingers through my hair, just looking back at me softly. "Maybe you should stop second-guessing me and just trust me a little more with your secrets."
Fighting to Be Free is the first part of an opposites attract romance. Kristy Moseley created two characters on the cusp of being adults and trying to find themselves. Ms. Moseley developed a compelling hero that readers will want to see get a fighting chance. Fighting to Be Free does end on a bit of a cliffhanger as their story will continue in Worth Fighting For. Fans of Jessica Peterson and Melissa Foster will enjoy Fighting to Be Free.

Book Info:

 Published September 6th 2016 | Forever | Fighting to Be Free #1
Jamie Cole has just been released from juvenile detention. Determined to go straight, he tried to cut ties with crime boss Brett Reye–but Brett has no intention of letting him go. Jamie's life is already more complicated than it needs to be, yet when he meets a beautiful stranger at a bar, Jamie knows he's in over his head.
Ellie Pearce has just gotten out of a terrible relationship and isn't looking for anything serious…until she meets Jamie. Their attraction is overwhelming and intense-she can't seem to shake her growing feelings for him, even though she's trying to keep it casual.
But when fate goes horribly wrong and Jamie's family is faced with ruin, he's forced to strike a deal with Brett. Despite his struggles, he wants nothing more than a future with Ellie. That's until Ellie finds out that he's been hiding more from her than she could ever imagine…
6 MILLION READS ONLINE!
The original Wattpad sensation – fully revised and with brand new content