Filthy Scrooge by Taryn Quinn is an emotional read with wounded characters. Don't let the name or cover fool you, this is a fun read,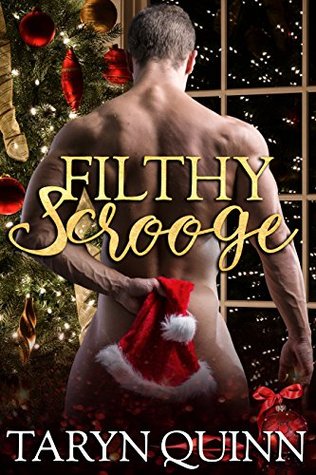 but it's also more than that. Our main characters both have issues they need to work through; the only question is whether they can work them out together. The writing is well-written, the characters have realistic feelings, and the steamy scenes pack a punch!
Kandy Kane works long hours and doesn't have time for anything but her party planning company. She used to go to the club and dance her little but off, but Kandy has been keeping her wild side locked away. When her friend drags her to Brooklyn for a new club, she meets a man out on the dance floor who makes her heart beat faster than normal. The way they were dancing clearly implies how good they would be in bed, but Kandy backs away and decides that this type of guy isn't her speed. He would take more than she was able to give.
Kandy needs to get this last party of the season done with, but when she's told that their Santa has run off, she's left scrambling for a replacement. Lincoln Murdock, the CEO of the company the party is for, doesn't like Christmas. The holiday isn't for him and he has reasons, but when he realizes the party planner doesn't have someone to play Santa and that she's the same woman from the club he was dancing with, he makes her a deal. He will put on the Santa suit if she agrees to go away with him, to his cabin, for two days.
Kandy isn't like the other women who would jump at the chance to be with the rich, successful, hottie. Unfortunately, she gets an anxiety attack while thinking about sex. But Linc has skills and if anyone can make her stay in the moment and only feel the pleasure, it will be him.
"Oh, and then when I'd finally had a breakthrough…denied.
I had to be attracted to the Orgasm Snatcher."
There's a reason why Linc thinks of himself as the scrooge, but if anyone can put you in the holiday spirit it will Kandy Kane. Can Kandy show Lincoln the joy of Christmas and maybe, get him to open his heart again?
I do think this book would have benefited from a November or December release instead of late January release. I am usually over Christmas by the first week of January, but that's just me. If you don't mind reading a Christmas story when the holiday is over, this is a really hot Christmas story, or you could buy it now and save it for when you get into the spirit. Either way, I really enjoyed the steamy scenes and the romance between the scrooge and his hot elf.

Book Info:

Publication: January 29th 2017 | Rainbow Rage Publishing |
Making deals is my specialty. And tonight, my terms are…her.
I hate Christmas. For years, I've avoided the holiday entirely.
Until Kandy Kane enters my life—the same seductive mystery woman I danced with at a club last night. When she shows up at my company the next day as our Christmas party planner, she's desperate for help with her little problem.
My hot elf in striped tights needs a last-minute Santa.
And I need her. In every way possible. And this time, she's not going to run. Alone in my remote cabin for the weekend, she's going to be mine in every way she knows and a few she doesn't.
Except she's hiding a secret. So am I.
She's a virgin.
And I'm the bastard who is going to ruin her for any other man…unless she ruins me first.