Fire Me Up by Kimberly Kincaid is the forth book in the Pine Mountain Series. Each book can be read stand alone, but each book is simply wonderful and the characters from other books do make apperances in each of the books.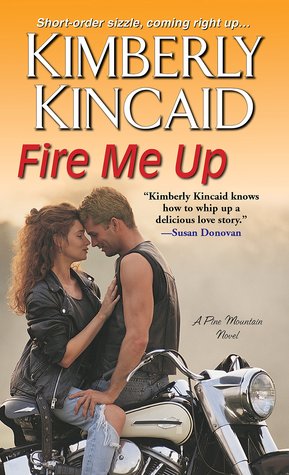 Adrian Holt is a bad ass to the core. He has always been standoffish and gruff. He is made for the kitchen and that is the only plaee that he has ever wanted to be. When a motercycle accedent forces him to sit on the sidelines, rest, and not return to the kitchen that he loves for 6 weeks, he thinks he is going to go mad. How unexpected that he would find is place in the little kitchen of the local pub, and working with the one woman that could cause him more problems than he can handle.
Teagan O'Malley is a hard a nails, more vinager than honey, paramedic. She doesn't let people in, and she definately does not let anyone take care of her. But when her da gets sick and she has to take over run the family pub she jumps at the offer from Adrian to help her in the kitchen.
Just when things look like they might be looking up for Teagan and Adrian, a loan shark with plans for the pub and a parole officer with a chip on his shoulder might cause this couple to crash and burn just when they realized that living life with no regrets means being with each other forever.
All I can say is WOW! I have read and loved every book in this series, and I have been waiting for Adrian's book to come out since book 1. The unfolding of Adrian's past in the pages of this book were totally unexpected. The love story between Adrian and Teagan was simply stunning. Adrian has always had a protecive nature, we have seen it with the way he always has his friends backs, but the way he puts himself on the line for Teagan was both frightening and beautiful at the same time. The way that they both want to take care of an protect each other, the way that they understand and accept each other without judgement is the stuff of HEA. Oh, and don't forget the food! I swear have to try the dishes that were made in this book, because they are just to wonderful to pass up.
I would recommend Fire Me Up by Kimberly Kincaid to anyone that believes in living life with no regrets and holding on to love no matter what the cost.
Book Info:

February 3rd 2015 by Zebra | (Pine Mountain #4)
If You Can't Stand The Heat…
Teagan O'Malley can handle a crisis. She's a paramedic, it's her job. But she never expected to land in the kitchen of her father's pub, with no notice, no cash, and no room for error. The kitchen is not her favorite place. Lucky for her, she just scraped a bad-boy chef off the pavement after a motorcycle accident—and something about him says he can turn up the heat in more ways than one.
Adrian Holt has had a rough few years, and he's not eager to get tangled up in anything more complicated than a good risotto. But with a broken arm and a head full of bad memories, he needs a challenge to keep him sane. Teagan's dare-me attitude and smoldering mess of a bar are just what the doctor ordered. And the two of them together might cook up some even better medicine…