In Flameout  (Souls of Fire #3) by Keri Arthur, Emberly should know by now that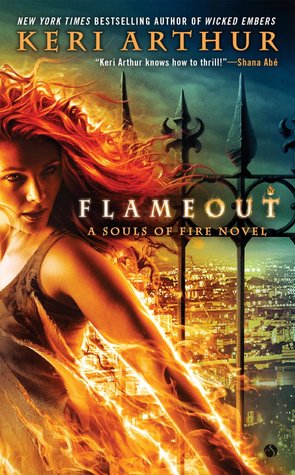 nothing ever goes to plan like she hopes it would. Being led into a trap by the leader of the plague-like infected humans, she's not sure whether she'll be able to get free. Especially when it seems witches may be at work with spells that can very easily render her powers as a phoenix useless. Can she overcome her enemies and save some innocent witches, or will she and her allies die trying?
I took a breath and slowly released it. "That almost sounds like you were being used as bait."
"In many respects, I was."
I raised an eyebrow. "So where is the backup team?"
"There wasn't one. As the vamps noted, this whole situation has stretched PIT's resources to the limit."
"It hardly makes sense to use you as bait, then leave you without a backup team if the wolf comes calling.
Ms. Arthur is one of my must-buy authors when it comes to paranormal books, as I so enjoy the female heroines she creates. Because they're always resilient and determined to fight until they've overcome any obstacles they have to in order to protect the innocent and punish the guilty. Right from the beginning, this book was engaging and fast-paced due to the trouble Emberly finds herself in, which had me intrigued to discover whether she would manage to get herself out of it.
The dialogue was intense due to everything Emberly goes through in fighting for the greater good. Will she be able to save the witches and defeat the leader of the plague-like infected humans? Will she be able to help Jackson control his powers since it seems he may be becoming a phoenix? Will she be able to help one of her men after what happens to him? What is she supposed to do when different factions want information she gets and is willing to threaten innocent lives to get it? Will she find the information she needs to help the plague-like infected humans? Despite, all that she faces, Emberly seems capable of handling anything that comes her way.
I offered Rory some more fries. "Are you accompanying us on this venture?"
He shook his head at the offer and plucked his coffee from the holder instead. "I think it's safer if I remain in the background, at least when it comes to this sort of investigation or anything unrelated to the red cloaks."
"You just like the idea of riding to the rescue if something goes wrong."
He chuckled softly. "Old habits die hard."
I really enjoyed Emberly and the secondary characters, because this book really progresses the series and will definitely have readers eagerly awaiting for the release of the fourth book after what happens to someone the heroine is really close with. As for the heroine, she's strong, brave and I like how she's always willing to go into a situation, no matter how dangerous it is for her. Then there's her relationship with her partner, Jackson, which is as strong as ever and I like how he and the heroine tease each other. Their teasing balances out how intense the situation they're facing is, especially when he keeps putting himself in harms way, and definitely makes for great chemistry between them.
Jackson met me near the exit gates. "You," I said, grabbing his shirt and dragging him close, "just about gave me a heart attack. Don't ever do something like that again."
"Like you wouldn't have done the exact same thing had our positions been reversed." He dropped a quick kiss on my lips. "And Superman is not the only one who's faster than a speeding bullet — or fast-braking train, as was the case."
Overall, this was a wonderful addition to the Souls of Fire series by Ms. Arthur, which has me so looking forward to what's to come for Emberly in future books. What will happen between her and Jackson? Will she find the information she needs to save those infected by the plague-like virus? The way this story ended brought tears to my eyes, and certainly will make Emberly determined to get revenge on those responsible for doing what happened to one of her men. I would recommend Flameout by Keri Arthur, if you've read the other books of this series, enjoy paranormal romance, or resilient heroines that will do anything to take down the bad guys.
Book Info:

Publication: July 5th, 2016 | Signet | Souls of Fire #3
New York Times bestselling author of Wicked Embers cranks up the tension in the next Souls of Fire novel, featuring Emberly Pearson, a phoenix who assumes human form to fight death at every turn.…
Emberly and her red hot partner, Jackson, have hit an impasse in their battle against the crazed humans infected by a plague-like virus derived from vampire blood. Their quest to unearth the leader of the group leads them into an ambush—and leaves Emberly at odds with her former lover, Sam, who's pressuring her to join his Paranormal Investigations Team.
To make matters worse, three local witches have been kidnapped—and if their spells fall into the wrong hands, Emberly's powers could end up smothered. With time ticking until the virus consumes the world, Emberly and Jackson must race to save the witches, find a cure, and smoke out their nemesis—or go down in a blaze of glory…