In Flirting with Danger by Claire Baxter, Jasmine Mackinnon has done everything she can to bury her feminine side. She loves being a firefighter, but unlike other female firefighters she does not like to dress up after work or use makeup. She is the happiest when she is wearing her old clothes, which fit her loose. Unfortunately for her, she has to dress up and wear makeup for her friends wedding since she is one of the maids.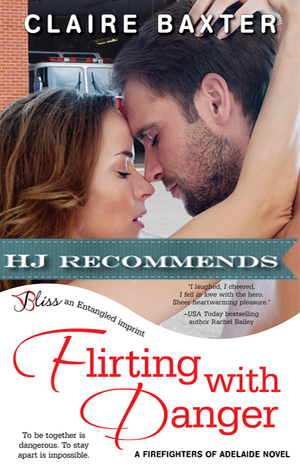 Aaron Parkes is used to having short-term relationships that go no longer that a third date and if possible not even beyond the first night. He is known as a player and not someone  for the long haul and happily ever after. Or so that's is how Jasmine and everyone see him and why while preparing for the wedding Jasmine immediately rules him out as an option for dating when her friend, who is happily getting married, suggest possible people for her and their other friend to find The One.
Aaron is used to seeing Jasmine wearing loose clothes that don't even give a hint to what's beneath, so when he sees her in a dress and with her hair and makeup done, he knows that things are about to change with his coworker. Neither Aaron nor Jasmine want to follow what they are feeling, they know that is would bring consequences down the line. It would cause problems and tension while working together, and besides it is not allowed to date someone from your own team, and neither of them wants to leave their team.
But things will change pretty fast once Aaron gives a ride home to Jasmine after the party, and what seems like an impulse they were not going to give into turns into a hot kiss that will leave them both wanting more. So Aaron will find every excuse possible to get close to Jasmine, and try to tear her walls down.
Aaron and Jasmine will have lots of things to analyze from their past. For what happened too long ago still affect how they see today and where they want their future to take them. And unless they are willing to risk their hearts, they may lose their true love that have finally found.
Flirting with Danger by Claire Baxter is fun and entertaining. Not only did it keep me wondering what happens next, it also left me wanting more! I found it really entertaining to see Jasmine's brothers and father interrogate and try and intimidate Aaron. But I also loved how after learning about her past, how he wanted to protect her and keep her from hurt, even if it was from himself. I can't wait for the next book in this series to be released and find out who the next firefighter to find his love will be next and what adventures and mishaps they will have.
For a fun, sweet and entertaining romance, don't miss Flirting with Danger by Claire Baxter.
Book Info:

HJ Recommends 
September 9th 2013 by Entangled: Bliss
Firefighter Jasmine Mackinnon has always just been one of the guys. So no one's more shocked than she is to find herself kissing fellow firefighter and all-around sinfully handsome playboy Aaron Parkes after a friend's wedding. Jasmine knows she can't risk an emotional connection with a colleague—a potentially dangerous entanglement when fighting fires together—and nothing's more important to her than her job.
Aaron never noticed how beautiful Jasmine was until he saw her out of her firefighter duds, but there's something about the fiery woman that tempts him. Though he knows pursuing a real relationship is out of the question for a serial dater like him, when their casual flirtation builds into something more serious, it's not just their jobs or their safety on the line. It's their hearts.