In Flirting with Disaster (Jackson: Girls' Night Out #2) by Victoria Dahl, Isabelle West has been keeping a secret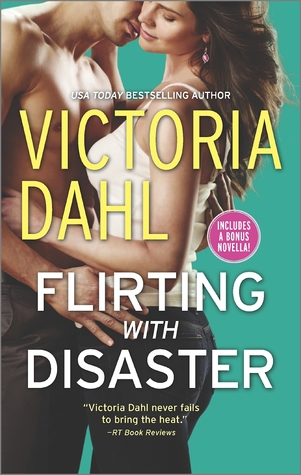 from her new best friends since moving to Jackson, Wyoming. Years of hiding her past has gotten old and Isabelle wishes she could just lay it all out there, but knows that would be potentially dangerous. Instead, she focuses on her art career and enjoys the occasional girls' night out. Then U.S. Marshal Tom Duncan knocks on her door and throws her life into a tailspin. Isabelle has never wanted a man more. But getting involved could bring her secrets to light. She has a feeling that Tom might just be worth the problems, though.
'His profession was a drawback, but it had somehow ceased to be a deal breaker. In fact, maybe it was a turn-on. The danger. Tempting fate. It was stupid, but she suddenly felt more alive.'
Tom Duncan came to Jackson with his team, ready to protect the local judge from threats over a court case. He never expected to come face-to-face with the most beguiling woman ever. Isabelle is definitely not shy. Tom loves that she'll say whatever outrageous thought that crosses her mind. But her actions also tell him that she's either hiding something or hiding from someone. Tom's instincts push him to look into her past at the same time as he starts to fall deeply for Isabelle. What he finds has the potential to change both of their lives. If he only knew what to do with that information to keep them both from getting hurt.
"I don't have anything to hide, Marshal."
Damned if she didn't lie almost as well as she kissed.
I can always count on Victoria Dahl for a steamy, emotionally driven romance with an extra side of naughty. And Flirting with Disaster has what might prove to be one of my favorite sassy heroines ever.
The Jackson: Girls' Night Out series has been amazingly entertaining so far. I've enjoyed getting to know the other gals, Lauren and Sophie, while they've found their soulmates. I will let you know that you can feel free to read these books independently and they will still make complete sense. But I would highly recommend checking them all out as they are just that much fun. Like I said before, I loved Isabelle West and thought she was one of the most straight-talking, sure of herself ladies I've run across in contemporary romance literature in a while. The fact that she started off in her adult life as the complete opposite and had grown into who she is today, in her mid-thirties was something I admired.
I also thought Isabelle had one of the most unique and coolest jobs I've seen in this type of story. I won't say specifics other than she's an artist who has amazing painting skills. The rest you'll have to find out from the story so I don't spoil a scene between her and Tom. Speaking of the hunky U.S. Marshal, he was a sweetheart as well. He obviously had a very strong moral compass, which played into the plot quite a bit and caused friction between himself and Isabelle later on. I loved that his scenes with her were very fun and that she was constantly making him blush with her forward way of speaking. But once they gave in to their attraction? Look out. Turns out that Tom had a bit of a dirty mouth himself. 😉
Looking for a super sexy adventure to get rid of the winter blues? Definitely give Flirting With Disaster a try. It has passion, deceit, humor, and scorching love scenes.
Book Info:

Published January 27th 2015 by HQN Books | (Jackson: Girls' Night Out #2)
There's no hiding from sizzling chemistry…
Artist Isabelle West has good reasons for preferring a solitary life. Tucked away in a cabin in the woods, she has everything she needs . . . except a red-hot love life. That is, until a hard-bodied U.S. marshal threatens to unearth secrets she's spent years protecting. But giving in to the sparks flying between them can only lead to one thing…disaster.
Tom Duncan lives by the letter of the law. But no one has tempted him—or confused him—more than free-spirited Isabelle, who arouses his suspicion and his desire. As their connection grows, and their nights get hotter, they find their wild attraction might shake everything he stands for—and expose everything she has to hide.