In Flirting With Forever (Island Bliss Book 1) by Kim Boykin, romance writer Tara finally hits it big with her non fiction book about marriage. Her book tops the charts as unexpectedly as her husband suddenly leaving her. Tara is devastated and confused, trying to move on but at the same time wanting answers. When a book tour is offered to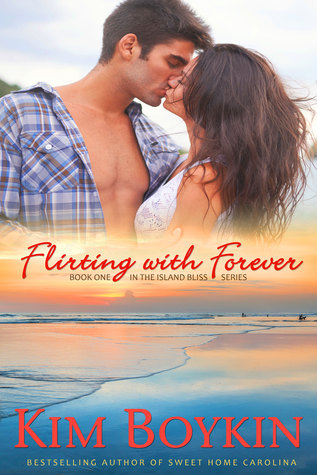 her, her dream come true, she can't be happy. Not with everything else going on in her life. But needing the money, Tara puts everything she can aside to go on tour.
Jake is the publicist Tara ends up with when hers is injured. 10 years her junior, Jake is not thrilled with the idea of 'babysitting' an author who is new to everything. As Tara and Jake spend much more time together, getting to know each other, their relationship soon blooms into much more than either of them anticipated. Will it last though? Is Tara ready to move on, even when her husband unexpectedly turns up again?
Flirting With Forever is a quick romantic read about Tara struggling to accept the changes life is throwing at her, and continues to throw at her. At the beginning I felt like I'd jumped into something I had no clue about, and a bit more background or build up might have helped me understand Tara more. I did feel like by the ending of Flirting With Forever I had a bit more of a feeling for Tara. I did enjoy watching Tara's character grow and develop through Flirting With Forever, and feel happy again. I did enjoy Jake's character, how he changed and was more open minded than I thought he would be! I do wish Flirting With Forever could have been a bit longer and deeper, not leaving me feeling so rushed through Tara and Jake's story.
Romance readers looking for a quick romance that will leave some things to the imagination will enjoy Flirting With Forever.
Book Info:

Published July 19th 2014 by Tule Publishing Group | (Island Bliss Book 1)
Forty-year-old Tara Jordan's first book, The Perfect Marriage in 30 Days, is at the top of the bestseller lists, and her publisher wants her on a book tour ASAP. Tara's about to live her dream only there's one problem. Her husband of 15 years has just walked out, leaving Tara on the brink of financial ruin with no choice but to promote a self-help book about marriage when hers is secretly in ruins.
Enter publicist Jake Randall, 30, who's had it with hand holding newbie authors channeling their inner divas on their first book tours, until he meets Tara. Their instant attraction blossoms quickly into love. Tara thinks she has achieved her dreams and earned her license to thrive until her husband, Jim returns determined to win her back.