For His Eyes Only by Liz Fielding: Natasha wasn't expecting the promotion to come that morning, but then she also wasn't expecting a very public humiliation, legal threat, and subsequent blackening to her reputation. As she is summarily relieved of her office and car keys, she ponders how she had gotten in that mess in the first place. I mean, her boss really should know that she would never have approved of the ad copy that'd been printed – but there wasn't any time or place to get a word in edgewise – especially not with Darius Hadley looming there.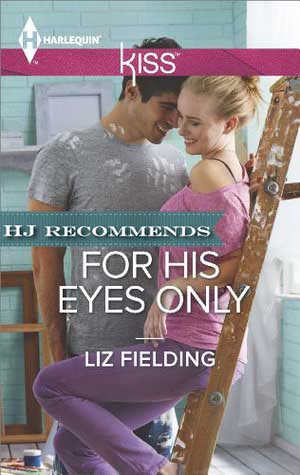 Darius had been furious. Stuck with a house he wanted no part of, but wanted to sell as soon as possible – and this agent decides *now* is the time to be controversial with her estate listing. He'd just barely been able to keep his own identity out of things already, and now he had to find some other way to rid himself of the property before things got more complicated. It didn't help that this Natasha woman, even is she is "unstable", keeps popping into his head.
Tash has a plan. She isn't going to let her scheming co-worker get the better of her. She wants to strike while the iron is hot. Natasha is the best, and she knows that if they spin the notoriety they've already gotten from the press incident to build interest in the house, she could really make a killing. Since her reputation is already nil, she offers her services to Darius free of charge. Some cake, persuasion, and the return offer of posing for him nude later – and the deal is struck.
What the two don't bargain for is that their resolve to stay away from each other crumbles faster than any woodworm infested stairways could hope to, even if it *had* been true. But Darius certainly doesn't want to get close to anyone, especially not someone that can see through him like Tash can. And Tash can't afford to let someone be over-protective, she's got to do some rebuilding, and it's gotta be quick.
Of course, life hardly ever works like that…
Another great KISS book. I know, I know, I totally sound like a broken record, but I think the editors of this line have really hit the magic chord here. So far, they all seem to hit a great balance of sweet, sexy, hot, and angst. At least the right balance for me.
Darius has a lot of issues, and I was *DYING* to find them out for the first half of the book. So mysterious… he's even described as a bit of a gypsy, and it totally fits. Hot with ALL CAPITALS. Then there's Tash. She surprised me – a lot. She takes absoLUTEly nothing from Darius. When they get caught making out (well, kinda), I had no clue it would go the way it went down. I laughed out loud!
We get some peripheral characters on both sides, Darius' assistant and some people from his past, and Natasha's family – but they're not a huge part of the story. Nice color though. I enjoyed the "vacation" when they all came together, it made for a nice melding of the two sides.
So again, Highly recommended – Another great KISS book!
Book Info:

Published March 1st 2014 by Harlequin KISS
"It's your body that I want to draw, not your clothes."
Well, that's what she was afraid of! Hardworking estate agent Natasha Gordon finds her reputation in tatters when an ad she created gets bungled. She'll do anything to restore her good name – even beg seriously sexy artist Darius Hadley to give her another chance to sell his ancestral home. Only, he drives a hard bargain: Natasha must pose naked, for his eyes only…!
He's asking Natasha to take him on trust. But she's learned the hard way not to trust men – particularly those she's working with…and let alone men she's taking her clothes off for!
Darius's next outrageous statement? "I will, too – if it will make it easier for you.…"