For Maggie's Sake by Lora Leigh might be a quick read but it's full of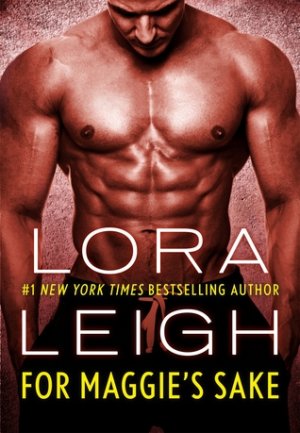 heat, suspense, and heart.
Maggie and Joe share a history together. Maggie was in love with Joe and then one night, she saw him with another woman. Before you get worried, not everything is how it looks and that's all I'm going to say on that matter. Maggie ended up marrying his best friend, Grant, and from there, it all went downhill. Now, Grant is dead, which is a good thing because he was a really bad man. Before Grant died he left a journal that implicates Maggie on some of his crimes and now she must be taken into protective custody and the man who will be watching her every move is her former lover.
Joe can't believe Maggie was involved in any of Grant's crimes and plans to find out the truth, once and for all. Before they know it, old feelings resurface and the passion they felt for each only becomes stronger.
"She was his. Only his. And for Maggie's sake, not mention his own, he hoped she realized that."
This novella is well-written and includes some very hot scenes, but that's normal from this author. If you enjoy second chance romances with plenty of heat, I would highly recommend this story. This story was previously released before in the anthologies "Real Men Do It Better" and "Taken" so for readers who are familiar with this author, this is not a new story.

Book Info:

Publication: December 13th 2016 | St. Martin's Griffin |
Maggie Chavez is in protective custody with a member of her former lover's SEAL team. Joe, her ex-lover, thinks Maggie is hiding information from him about a powerful drug lord and the deaths of some SEALs. He intends to seduce her and get the information before she can sell it back to the drug cartel. But the desire crackles between them and their attraction is undeniable. How can Joe use her and leave her, when all he wants is to hold her close and never let go?