In Forever a Hero (The Carsons of Mustang Creek #3) by Linda Lael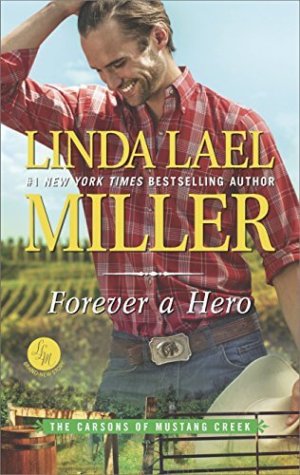 Miller, ten years ago, Mace Carson rescued Kelly Wright one night on Campus where they both attended college. Now, the moment she comes back into his life, she's there for one reason and one reason only – to get him to sell his winery. Finding themselves at odds with him not wanting to sell, Mace never imagined he'd end up falling in love. Can he convince Kelly to give him a shot at happy ever after?
"Sorry I missed the meeting," she said.
"No problem. I'm pretty flexible."
"Impressive, for a superhero."
"I'm just a man, Kelly. I did what anybody else would do, ten years ago on campus, and last night."
I absolutely loved the first two books of this series, and couldn't wait to read Mace's story, and it was everything I'd hoped for and more. Just like the other two books, this story was riveting due to the way it started with the situation Mace finds himself in with Kelly. That situation sets the fast-pace of this book and had me intrigued to know whether she'd be all right. It's not every day a woman needs to be rescued by the same man a second time in her life.
As for the dialogue, it was intense due to the main characters back stories, especially that of the heroine. She's been through so much with what happened to her in college and then with her ex-husband who turned out to be a liar, even if their split ended up amicable. How can she even consider putting her trust in another man? Then again, Mace has proved he's a good man determined to protect her at any cost. Also, she's hard-working and I liked that she didn't give up despite the fact that Mace was adamant he wouldn't sell. However, the dialogue wasn't all intense. There was also some really good playful banter between Kelly and Mace that created so much intense chemistry, which eventually spilled over onto the pages in nicely-detailed sex scenes that illustrated the strong connection these two had from the very start.
"This is a shortcut," Mace told her.
Kelly rolled her eyes, trying hard not to laugh. "Or," she said, "it's a kind of initiation. Something along the lines of snipe hunting."
"Never," Mace lied. She saw the corners of his mouth twitch.
"You just like doing things the hard way?"
"I do appreciate a challenge," he admitted.
Both the main characters as well as the secondary characters were very entertaining, and it's palpable how close Mace is with his mother and brothers. He and his brothers tease each other, and I loved that they could joke so easily without taking offense. As for the hero, he's kind, caring, hard-working and I loved how protective he was of Kelly, especially when she learns some bad news that might put her in danger.
Overall, Ms. Miller has penned a worthwhile read in this book, encompassing a wonderful romance and characters that will keep a reader entertained with their teasing banter. The way this story ended had me laughing, because of who managed to round up the person causing trouble for Mace and Kelly. What a good animal! However, it was the final chapter that I loved the best about the ending, because of the hero and heroine's words at the end. Who knew a city girl would come to love the country so much? I would recommend Forever a Hero by Linda Lael Miller, if you enjoy the sexy protector trope or enjoy books by authors Diana Palmer, Janet Dailey or Jennifer Ryan.
Book Info:

Publication: March 20th, 2017 | Harlequin MIRA | The Carsons of Mustang Creek #3
For the youngest Carson brother, finding — and fixing — trouble seems to be all in a day's work.
Mace Carson is no hero. Back in college, he came upon a woman in trouble and intervened — but he was just one irate Wyoming cowboy with his boots planted firmly on the side of right. Now a successful vintner, Mace is shocked to be reunited with the woman he saved. But it turns out she's in Wyoming on business…a corporate executive representing the company that wants to buy his winery. Only, he's not selling.
Kelly Wright has never forgotten that horrible night ten years ago when Mace came to her rescue, has never forgotten him. The surprising success of a winery in the middle of ranch country has brought her to Mustang Creek, and she's secretly thrilled to discover Mace at the helm. Reluctant to mix business with pleasure, Kelly vows to keep things professional, until her attacker is released from prison and comes for vengeance…against both of them.