Forever in Good Hope by Cindy Kirk: Fin left Good Hope and has rarely looked back. She enjoys her career in helping find books to turn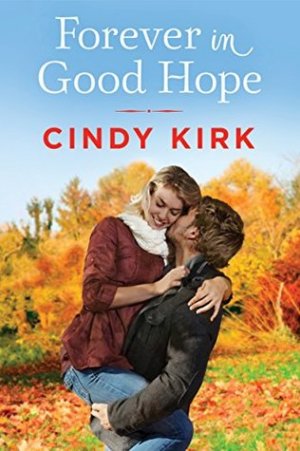 into movies while living in LA. Living on the other side of the country helps her to keep her distance and guard her heart, but she's increasingly finding it difficult to stay away from her home town now that all of her sisters are living there with their own families.
Jeremy is the classic boy next door and hottest bachelor in Good Hope. He was born into a wealthy family, became one of the "cool" kids in school, and now leads the town as Mayor. He's sexy, charming, loyal, and a dedicated grandson.
Fin and Jeremy were that couple that everyone was sure would get married after high school, when instead they drifted apart and went their own ways. The pain of losing Jeremy is just one of the reasons why Fin prefers to stay away. But surprisingly it is work this time that brings her home again. It's clear to everyone that there is still something between them, but it takes a health scare and work assignment for Fin and Jeremy to enter into a fake engagement.
"Something else?"
"There's one more thing to do with your grandmother that I forgot to mention."
"What is it?"
"She's throwing an engagement party for us Saturday night."
In role-playing the reunited lovers, they have to spend time together and plan a wedding for a town thrilled for all the details of their (fake) wedding. It's too bad that Fin is actually engaged to a LA-based director. It gets more complicated as both struggle with their growing intimacy and renewed feelings. Fin adores Jeremy's grandma and would do anything to help ease her stress, but living with Jeremy doesn't help her confusion.
"On the way home we'll discuss payment."
He raised a brow.
"I won the game." Fin felt a surge of satisfaction.
Jeremy opened his mouth, then shut it. "Something tells me I should have clarified what you'd expect if you won."
Forever in Good Hope is the story you've been waiting for in the Good Hope series! Cindy Kirk puts her own spin on the fake engagement story with humor, heat, family, and community. Ms. Kirk continues to develop entertaining and engaging characters in this community. Forever in Good Hope can be read as a standalone in this series. Fans of Susan Mallery, Kimberly Lang, and LuAnn McLane will enjoy Forever in Good Hope.

Book Info:

Publication: August 15th 2017 | Montlake Romance | Good Hope #4
In the fourth installment of Cindy Kirk's beloved Good Hope series, a ruse with an old flame grows into romance.
Delphinium "Fin" Bloom returns to her hometown with one goal: get the mayor—her former flame—to approve a location shoot in Good Hope. But business turns personal when the two become entangled in a fake engagement to comfort his ailing grandmother.
For Jeremy, the romantic façade hits close to his heart. Still reeling from the way things ended between Fin and him all those years ago, he sees the fake engagement as an opportunity to get her out of his system once and for all. But instead of laying the past to rest, Jeremy quickly discovers he can't envision a life without her.
Now engaged to another man, Fin had long ago given up on the dream of a life with Jeremy. Why is it, then, that her fake engagement feels more genuine than her real one? As the sleepy days of summer come to a close in Good Hope, will Fin and Jeremy give love a second chance? Or will the revelation of a devastating secret put an end to the fairy tale?