In Forever Yours by Addison Fox, prosecutor Jasmine Shane has had a crush on her best friend's brother, Detective Cade Rossi, for most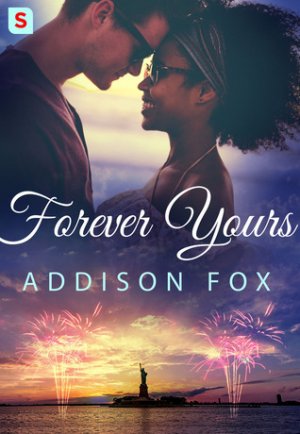 of the twenty years she has known him. Tired of watching him with his flavor of the month, Jasmine begins to date a co-worker. While he's perfect on paper—a rising star prosecutor, impeccable manners, and her mother's approval—she can't bring herself to become physical with him. Part of the reason was because of the attack she went through months earlier, but she also knows another reason is because she wants to be with Cade.
Cade has always wanted Jasmine but held back, fearing if something went wrong between the two of them, both he and his sister would lose their friend. When Jasmine's attacker reappears, Cade has to decide if he can push those fears aside and be the man he wants to be for her.
I don't normally enjoy novellas, but I actually liked this one. I enjoyed the playful banter between Cade and his sister, Daphne, as well as between Daphne and Jasmine. It was clear Daphne wanted Cade and Jasmine to get together, and she wasn't shy about expressing it.
"Booze isn't your answer. Sadly." Daphne shook her head before drowning the last sips of her margarita-her first, thank God. When she finally came up for air, she finished her thought. "My brother's penis is the answer."
"Daphne!" Jasmine did glance around the bar this time, convinced she was about to become the laughingstock of Park Heights.
The book deals with racism, as the attacks on Jasmine were racially motivated. I found their showdown a bit rushed and anticlimactic, but what bothered me the most was Jasmine's response to the hatred the man spewed. Throughout the whole book she was strong and confident, never backing down from an argument, but she lets this man shake her confidence. I had a hard time understanding why the second attack, which was strictly verbal, rattled her more than the previous attack, which was much more physical, with verbal attacks mixed in. I also didn't understand why she was so reluctant to tell her parents about what she experienced. She said she didn't want to them to know she had become a statistic, but it's possible that they themselves might have dealt with racism in the past and may have been able to help her navigate through the emotions she was left with after facing such hatred.
I liked how Cade supported Jasmine and tried his best to convince her that she was better than what her attacker claimed she was.
"No. Paul Barrow didn't win. And you're not some statistic. Not some line in a ledger somewhere. You're Jasmine Shane. You're the daughter of Lynn and Percy Shane. You're a damn fine lawyer. You're a ballerina. You're a friend. And you're a force to be reckoned with."
If you enjoy the best friend's brother trope and you're looking for a quick read (this is listed at only eighty-five pages), I recommend this novella. While I feel it could have been flushed out more, it still works well. I haven't read the previous two stories, but I'm interested in the tight-knit group of friends Cade and Jasmine had, so I'd like to go back and read them. While reading, I got the impression that what originally happened to Jasmine might have been covered in the previous book. This still works as a standalone though, as what happened was eventually explained in this one as well.

Book Info:

Publication: June 13, 2017 | Swerve | The Brooklyn Brotherhood #3
Detective Cade Rossi has spent the majority of his life oblivious to Jasmine Shane. She's always been his little sister's best friend, but after coming to her rescue one night, Cade is starting to see the woman behind the lawyerly suits.
Since childhood, Jasmine has harbored an embarrassing crush on Cade. She's seen him work his way through nearly every eligible bachelorette in Park Heights, Brooklyn, and Jasmine's given up hope of them ever having a chance together.
But summer is the perfect time for a fling, and as Cade and Jasmine grow closer, what starts out as an innocent flirtation could turn into so much more…