Fortune's June Bride by Allison Leigh: Galen Fortune Jones and Aurora McElroy are neighbors in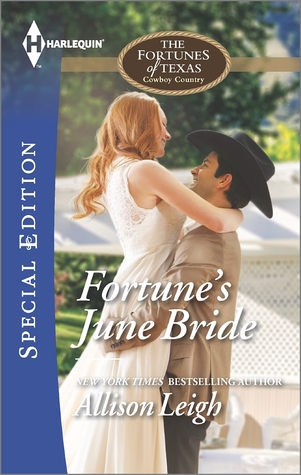 Horseback Hollow, Texas. A fortune teller tells Galen he will soon marry. Aurora asks Galen to participate in a ten minute attraction at the local Western theme park, Cowboy Country. The show includes a fake marriage between the two of them.
Galen, a rancher and consultant to the park, agrees to help out. Aurora was the kid sister of one of his good friends growing up, who is now deceased. Aurora is working at the theme park to help pay for her parents' vacation to Alaska. She encounters her college roommate/busybody Roselyn St. James, the girl who stole her boyfriend and married him. She irks Aurora greatly. Aurora tells Roselyn that she and Galen are married, he plays along. Aurora is offered a offer in Branson, but that would mean leaving everyone and everything she knows. The fortune teller gives Aurora some sage advice.
"Just remember, dear. Dreams are like prayers. They're usually answered in ways we never expect."
Galen is a part of a big family, his six siblings are all married, putting pressure on him to do the same.
There is a lot of southern small-town Texas charm in Fortune's June Bride. There are plenty of southern sayings, though I can't speak of their authenticity, having lived in New York my whole life. Galen is a sexy rancher and Aurora is a woman with great inner strength. Fortune's June Bride is full of good chemistry and fun.
I recommend Fortune's June Bride by Allison Leigh to those who love ranchers, humor, and a little spice.
Book Info:

Publication: May 19th 2015 by Harlequin Special Edition Series #2407
COULD A WEDDING FOR A WEEK
For weeks now, sexy-as-heck Galen Fortune Jones has been playing the ardent groom in the Wild West Wedding show at Cowboy Country USA. The bride? His sweet, redheaded neighbor Aurora McElroy. Of course, Aurora has had a hidden crush on the rancher for years, but she's been careful to keep that secret close to the vest!
…LEAD TO MARRIAGE FOR A LIFETIME?
Things get a little out of hand, however, when Galen agrees to pretend he and Aurora are real life husband and wife. It's only temporary, of course, and it's for a good cause. But being Aurora's hubby &off stage; is starting to mess with the confirmed bachelor's head. He's having far from friendly feelings for his in-name-only spouse, and it's freaking him out! Has love finally found Horseback Hollow's last unfettered Fortune?