In Four Weddings and a Fireman: A Bachelor Fireman Novel by Jennifer Bernard, Derek "Vader" Brown is one of the infamous San Gabriel Bachelor Firefighters who is just trying to do his job and have some fun in life. He's also looking to break the so-called curse and convince his girl Cherie to marry him. But she effectively shuts him down every time Vader tries. He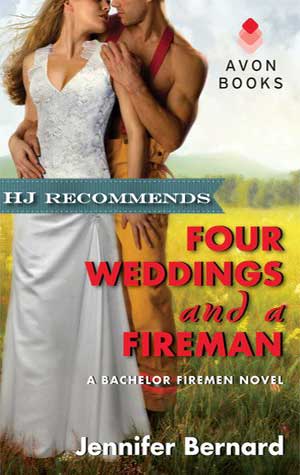 knows she's hiding something, and he's tried to finagle it out of Cherie to no avail. With his disabled mother's constant care and his hopes of soon becoming captain, Vader busily pushes forward hoping Cherie will come along for the ride. The pressure mounts when her past catches up with her and he must protect her and her family when evil threatens them.
"I want to know why you keep pushing me away. Even when things are going great. No, especially when things are going great."
Cherie Harper wants nothing more than to know her brother and siblings are safe and happy. She put her past behind her for now, but always has one eye looking over her shoulder, waiting for the other shoe to drop. Cherie would love nothing more than to settle down with kindhearted, and sexy as anything, Vader, but she doesn't want to drag him into her drama. When her worst fears are realized and her past comes back to haunt her, Cherie is forced to face things head on and hopefully not lose the man she loves in the process.
'All joking and partying aside, this was a man with an enormous capacity for love, but even more than that, for sacrifice.'
Four Weddings and a Fireman is the steamy and exciting fifth book in the Bachelor Fireman series. Filled with hunky fireman, humor, secrets, and family drama, Jennifer Bernard did a great job keeping me hooked with Vader and Cherie's story until they (finally!) reached their HEA.
So Vader is exactly what comes to mind when I think of a heroic fireman. He's incredibly loyal, brave, quick-witted, and extraordinarily handsome. He keeps his promises and would lay down his life for his fellow firemen and his family. Cherie certainly lucked out that she caught the eye of the protective guy. And with what she has been through in the past, I thought she definitely deserved a hero like Vader. Cherie herself had a huge heart and was so sweet, always giving back to those she loves.
Like in a lot of romances, communication, or lack thereof, played a key role in their story. Had Vader and Cherie come clean about certain aspects of their lives and their pasts, a lot of conflict and heartache could have been avoided. But it did make for an interesting plot for us readers so I guess we can't complain! I thought the way Jennifer showed Vader's ability to put people at ease using humor was great and pretty realistic for the type of job he had. I also loved how sensual and intense Cherie and Vader were as a couple. Their romance was explosive and there was no way around how they felt for each other.
I would definitely recommend this romance for readers who like their stories sexy with a side of drama and humor mixed in.
Book Info:

Publication: February 25th 2014 by HarperCollins Publishers
It takes a certain kind of man to stand out among the Bachelor Firemen of San Gabriel.
Firefighter Derek "Vader" Brown is one of a kind—six feet of solid muscle with the heart of a born hero. It's that protective streak that has him pursuing a promotion to Captain to pay for his mother's home care. And it's why he intends to figure out why his sometime girlfriend Cherie Harper runs hot as hellfire one minute and pushes him away the next.
Cherie's got it bad. Vader sweeps her off her feet—literally—and their chemistry is combustible. There's just the little problem of a nightmare from her past she was desperate to escape. And then her sister Trixie arrives, causing havoc for Cherie and the male population of San Gabriel. Cherie doesn't want her past to complicate Vader's life or his career. But there's nothing like a firefighter to break through all your defenses, one smoldering kiss at a time . . .