French Blue (Study in Seduction #2) by Natasha Bond: Londoner Lisa Archer is a freelance public relations guru that just completed another successful PR campaign. She has a few months of downtime before she has to leave her temporary home in France for her new contract in New York. Lisa's career is booming, considering she had a major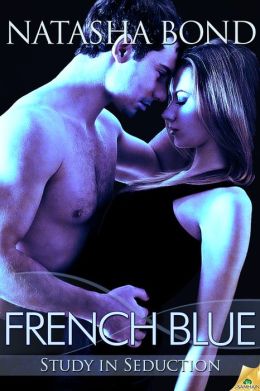 setback a year or so ago which also altered her personal life as well. Secretly, she entertains a need to let go of her never-ending, assertive and proper business persona in order to discover the world of BDSM.
Famous artist, gallery owner and teacher, Frenchman Olivier Lemaitre, is above all a Dom. When he was diagnosed with a rare form of cancer, his girlfriend and submissive left him because she could not handle his situation. Luckily, he was misdiagnosed and the disease he actually had was treated successfully. Since that time, he has stopped painting and engaged in short term arrangements in order to prevent any emotional heartache. To those aware of the BDSM lifestyle, Olivier is known as quite a catch.
There is an instant spark when Lisa and Olivier are introduced during one of Olivier's art gallery functions. So much so that that Olivier agrees to shower Lisa with everything he knows about submission. Whew, they are a hot and sexy couple with a sexual connection that is like no other. Each session of role play brings them closer and closer together, which will only make their separation more difficult when Lisa moves to New York.
If you decide to read this book, be aware that the dom/sub scenes are incredibly intense, hot, and emotional. In fact, I found a couple of the BDSM encounters to be quite harsh and severe for my taste. I did like the way the author used french words and phrases throughout the story to increase the romanticism of the sexual encounters. However, since I do not know any french, I had to look up some of the words, which was bothersome.
Book Info:

Published June 3rd 2014 by Samhain | (Study in Seduction #2)
The past can color the future…or wipe the canvas clean.
Study in Seduction, Book 2
In public, hotshot communications specialist Lisa Archer presents a perfectly polished image. Privately, she harbors a secret desire to shed her restrained exterior—and her business suit—to explore the world of discipline and domination.
She can't risk being seen in a BDSM club, but when she's introduced to the most sought-after Dom in Paris, his powerful presence makes her feel like she's treading on safe ground. Even better, he has no interest in falling in love, which fits right in with her three-month break between contracts.
Bored with the club scene, Olivier favors private arrangements with one sub at a time. This keeps anyone from getting too close to emotional scars that run so deep he's lost the will to paint—or to love. A temporary liaison, staying well within his boundaries while pushing hers, suits him perfectly.
Lisa's first visit to Olivier's apartment is deliciously shocking. Yet as they begin to strip away the layers guarding their souls, the pain and the pleasure could be too much to keep things strictly business…