Friction by Sawyer Bennett: High powered lawyer with a 100% win record, Leary is working her most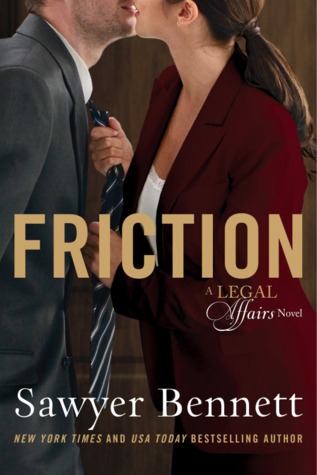 important, and personal, case yet. Taught to use her sex appeal as a weapon to win, she never thought it would lead to an affair with the opposing defense attorney on her newest case. And she never would've imagined their agreed upon sex-only affair could lead to so much more than sex.
Opposing council Reeve has never met a woman like Leary, so in control of herself and her sexual allure. He'll do whatever he can to keep her in his bed as he falls harder and harder.
But what happens when they have trouble separating the case from the affair? And can Reeve balance his love life with his desire to win and to follow the ethics of his job as a lawyer?
"You think you can ignore my calls for 5 days, put your foot against my cock, and not get a reaction out of me?" he growls menacingly.
I know I should be scared by the tone of his voice, but I'm not. I'm consumed with lust now and at a complete loss as to how to handle this enraged bull with a bull-size dick in my hand. Reeve doesn't give me a chance to make amends, though. His hands shoots up, grabs a handful of hair at the back of my head, and gives me a tiny shake before pulling back so my face tilts up towards his.
Leaning in so is lips almost touch mine, he growls, "You need to fix this, Leary."
The chemistry between Leary and Reeve is absolutely wonderful. Every time they were in the same scene together, which thank god was often, they were heating up the pages. I could not put Friction down, read it straight through.
And I love that along with the heat were totally real issues for the couple keeping them, and me, on edge the entire romance. It is a great conflict, too. Lawyers on opposite sides of a case, both needing to win. Although it might have been better if Reeve's had to win for his own reasons beyond being an ethical lawyer to a horrible defendant.
The side characters, too, and the setup of Leary's very unique law office made for a great story as well outside the main romance. Essentially, every aspect of Friction by Sawyer Bennet was entertaining to read and I highly recommend it to all romance readers looking for an interest, and very sexy, read.
Book Info:

Publication: October 27, 2015 | Montlake Romance |
At the powerhouse law firm of Knight & Payne, winning comes first and ethics a distant second. Leary Michaels uses her female charms to daze opponents, and it's always worked well—until now. On her most personal case yet, she finds herself going up against a defense attorney just as skilled, shameless, and seductive as she is.
Reeve Holloway has never met a woman as sure of her own sexuality, or as ruthless in wielding it, as Leary is. But he won't be toyed with. What Leary starts, he'll finish—in the courtroom, the bedroom, or any-damn-place he wants. The sex is uninhibited, electrifying, and absolutely against the rules. Reeve's job is to ruin Leary's case…even if it destroys her in the process and costs him the woman he's come to love.