Friend Zoned by Wren Michaels: With a looming deadline, Catherine needs to get her sociology project underway. She's decided to compare online dating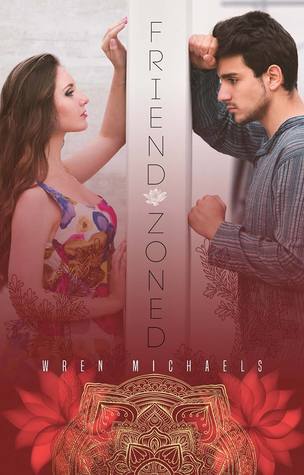 to meeting someone in person. She's a dedicated student who just so happens to love all things Doctor Who and superhero comics, football, and beer. There's a pretty great guy online who shares her love of Doctor Who who makes for a viable online dating option, so she needs to find someone in person.
Jaidev is stuck between a rock and a hard place. He's a devoted son, but he doesn't want to manage the family practice or go through with the arranged marriage to his very best friend who he loves like a sister. He's pretty much decided not to date since he is reluctantly engaged, which leads to his topic for the same sociology paper. He plans to find a woman he's attracted to and just remain friends.
After locking eyes across a bar, Cat and Jai experience an intense and immediate attraction. Neither acts on it, but they do decide to make each other the target for their own experiments. Each believes that their experiment should be over quickly, but they are forced to spend a good bit of time together in the name of research.
"But aren't you the one who couldn't wrap her head around why I'd give up on my dreams?"
I pursed my lips and stared at him. He used my own damn words against me. The jerk. A cute jerk. But still. "It's different."
The attraction is certainly overwhelming as Cat tries her moves to get Jai to cave, while Jai doggedly tries to keep the seductive Cat in the friend zone. The only problem is that both want to actually act on the attraction as they get to know more about each other and see what's beyond the surface. They share quite a bit in common and before long they cross that line. One night isn't enough, but Jai could lose his family if he doesn't marry the bride of their choosing.
"So?" I asked, as we pulled up to her dorm hall.
She bit that sexy lip of hers and gave the camera back to me. "Okay. Fine." She threw her hands up. "You win. I had fun. With bats."
"You must learnt to trust me, grasshoppa."
Friend Zoned is funny and sexy as games get real and cultures clash. Wren Michaels created realistic conflict with some good (expected and unexpected) surprises. Ms. Michaels developed a good cast of characters in their friends. Fans of A. M. Madden and Jessica Peterson will enjoy Friend Zoned.
Book Info:

Publication: Published February 28th 2017 | Amazon Digital Services LLC |
All's fair in love and war until one person gets stuck in an arranged marriage.
Catherine 'Cat' Marek has a sociology paper due on dissecting the laws of attraction. Project Panty Drop will case study two different men; one she'll go after in person and the other she'll attempt to charm online. Hiding behind her beauty, she tries to cover up her true geeky side, and the fact that she's partially deaf.
Jaidev 'Jai' Sankar needs to knock out a paper for his online sociology class. After an encounter with the Texas Tease, Cat Marek, he decides Project Friend Zoned will be the ultimate topic, proving a guy can remain in the friend zone with a girl he finds attractive.
As Cat puts the moves into overdrive, Jai finds it harder to remain in the 'friend zone' with her. The only thing keeping him from letting go is the fact his hardcore Hindu parents have a wedding scheduled for him. When neither can resist their attraction, the fight no longer becomes about their papers, but about the freedom to love each other.