Between Friends by Vristen Pierce is a hot novella that left me panting and wanting more.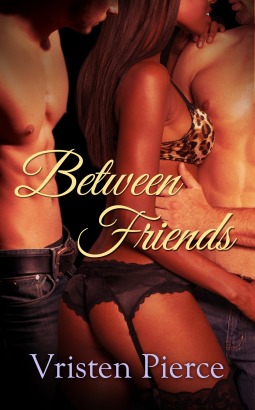 Account Manager Stacy Washington needs some spice in her life without any emotional attachments. Abruptly dumped by her almost fiance Nathan, she decides to spread her conservative wings and seek out a hot man for a fling. She and her best friend Nina prowl the hottest nightclub in Oklahoma City, Blaze, to fulfill Stacy's new outlook on life. Stacey lucks out and meets two men, friends Justin and Evan, that are warm for her form. She goes home with Justin, a hot, inked motorcycle rider with a romantic side. They sizzle on and off the dance floor.
The following week, Stacy and Nina return to the nightclub so Stacy can get to know Evan better. Evan is biding his time as bartender at Blaze, saving all he can so he can own his own bar someday. The heat between Stacy and Evan is mind-blowing.
Stacey can't help herself and alternates sexual encounters with both men, which eventually leads to a very erotic ménage a trois. She seems to be falling for both of them. However, Stacy's need for a life with a husband and family is always on her mind.
This novella ends abruptly without any warning, which is a turn off. The sex scenes are well-written and extremely steamy.
Overall, this is an okay read that could have been greatly improved upon with additional back-story and character depth.
Book Info:

Publication: October 1st 2013 by Forever Yours
After being unceremoniously dumped by her long-time boyfriend, Stacy Washington hits one of the hottest clubs in town with her best friend, Nina. Stacy decides it's time to shed her good girl persona by letting go of her inhibitions. Relationships are trouble; casual sex is simple.
When she sees sexy bartender, Evan, she's instantly intrigued by his dark, good looks and his killer smile. Before she has a chance to get to know him better, an equally sexy prospect comes her way and this one is ready to play. Justin's not shy about telling Stacy exactly what he wants. She plans to have her way with both him and Evan until she finds out they're close friends. This could be awkward or this could be the most exhilarating experience of Stacy's life. She decides to take the plunge by coming between friends–in more ways than one.
Between Friends is a 21,000 word erotica novella.