Friendship on Fire by Joss Wood  is the first story in her Love in Boston series. It's about a group of family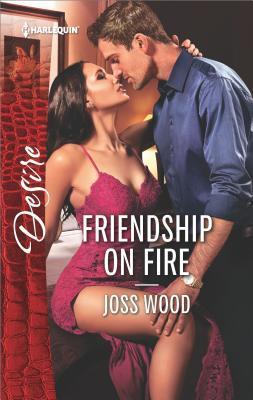 and friends and the relationships that develop as they become adults. In this one, two best friends lose their way and become estranged, only to get the chance to rekindle their friendship and more.
Jules Brogan is a successful interior designer, working with her twin sister Darby and best friend Dylan-Jane. They grew up in the Lockwood Country Club Estate with the Lockwood brothers, who became almost like adopted sons to the Brogan parents. Noah Lockwood and Jules were best friends since children, but numerous circumstances resulted in Noah leaving Boston to advance his sailing career.
Ten years later, Noah has returned home to try to salvage some of his heritage from his stepfather who is squandering the Lockwood money and property. He never told Jules why he left and severed their friendship, and now he needs her help to provide the interior design of a yacht he is building for a demanding customer. And he might have also told his customer that Jules was his fiancee. Without the yacht sale, he won't be able to get the money together with his brothers to head off the dismantling of his childhood home. The attraction that had been budding between them when he left still exists and is stronger than ever. Can Jules and Noah right the wrongs done in the past and find a new future together?
I really enjoyed this story and all of the characters introduced to the reader in what promises to be a delightful series! Noah's reasons for leaving are complex and the full explanation doesn't come until later in the story, though Jules decides it's worth trying to salvage their friendship even if she was very hurt by Noah's leaving. Plus, she can't deny their mutual attraction any more than he can. This results in some sexy scenes between them as they try to navigate their feelings and figure out how to move on from past mistakes.
Family relationships definitely play a key role, with Noah and his brothers being solid friends and business partners. Jules and her sister Darby have a special bond as twins, and Darby can easily discern that Jules' relationship with Noah is changing. Noah's the only one who really knows what a low-life his stepfather is and how he's ruining their good name and family fortune, though eventually he reveals his secrets to Jules.
Along with Jules and Noah's romance, there is a fun side romantic storyline involving Jules' widowed mother Callie. She's 54, and wanting to dive into a bucket list of things to accomplish. There's a handsome coffee shop owner who'd like her to give him a chance to help with some of those things on her list. Her story will play out in little chapters throughout the series and I can't wait to follow along! I'm thoroughly invested in the Brogan and Lockwood families and look forward to reading their friend Dylan-Janes's story next!
Book Info:

Publication: Jul 03, 2018 | Harlequin Desire | Love in Boston #1
Fool her once, as her best friend.Fool her twice… as her fake fiance?
Top Boston interior designer Jules Brogan has no shortage of work. So why say yes to designing a yacht with Noah Lockwood–her former best friend who disappeared from her life ten years ago after one smoldering encounter? Especially since the job requires posing as Noah's fiance! But what are old friends for…especially if she can coax him into one more kiss?