In From Passion to Pregnancy (Hot Brazilian Docs #4) by Tina Beckett, after being witness to his parents loveless marriage,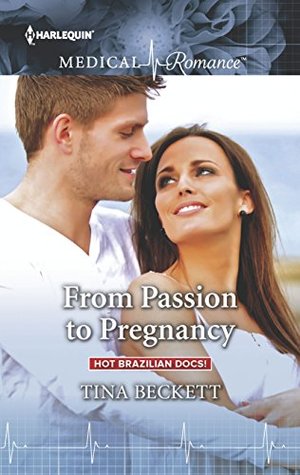 Doctor Sebastian Texiera has no desire to find his Ms. Right and settle down. Yet, one night with nurse Sara Moreira results in her becoming pregnant. Desperate to make things right so they can work together, Sebastian and Sara decide to get married. Will Sara be able to show Sebastian that settling down can have its rewards, or will they each lose the one person that can make them completely happy?
"There are locks on the doors, right?"
Up went his brows. "Afraid I might try to sneak into your room while you're asleep?"
The thought of that made something in her tummy shift sideways. She covered it with a laugh. "Of course not! I just don't want to walk in on you when you're in the bathroom."
"Yes, there are locks, Sara. Strong enough to keep out even the big bad wolf."
Any chance to read a book by Ms. Beckett is a few hours of worthwhile and captivating reading, and this story was a wonderful medical romance that entertained me from start to finish due to the main characters back stories that have left them wary of love; dialogue which was a perfect blend of intense moments and teasing banter that had me smiling and charmed by the obstacles this couple face on their journey to happy ever after; and the ending that left me so happy because the hero needs the heroine in his life since she's good for him and makes him realize that he does deserve happiness, no matter what he's witnessed from his parent's marriage that made him think he wasn't cut out for love, family and happiness.
Both the main characters were fantastic, and I loved the way this book started with the hero needing a time out from the special event they're attending. Will the heroine be able to help the hero? However, it was from the moment where the hero and heroine come face-to-face again and find themselves working together that this story became very intriguing. Since it's palpable they know nothing can happen between them, and yet, Sebastian isn't willing to let them risk everything they've worked so hard for once Sara reveals her news. Will Sara agree to the arrangement right away? Will she give Sebastian a chance, despite their arrangement being like his parent's marriage? Will Sebastian eventually realize that what he feels for Sara is completely different to how his father feels for his mother?
As for the heroine, she's strong, brave and I liked how determined she was to work alongside Sebastian and help the patients they care for, especially a woman that discovers some shocking news, yet not as shocking as the woman first thought. I also liked the tight bond the heroine shared with her father and that they would do anything for each other, which is proven when the heroine realizes what a mess she's made of her life when it comes to her and Sebastian. While the hero, he has some tough decisions to make and I liked how determined he was to succeed in his new venture as a doctor. Can he get patients that have never known the benefits of medical treatment to see how much good he could do for them, especially if they do have any serious medical problems? I also liked that the hero took a chance on Sara, despite how he feels about marriage because of his parents and their lack of love for each other.
"What are you doing, Sara?"
"Didn't they teach you anything in sex education class?" She gave him what she hoped was a sexy grin.
"Oh, I have plenty of education. Want to see?"
Overall, Ms. Beckett has penned another really good read in this book where the secondary characters entertained me as much as the main ones because of the advice they offered; the chemistry between this couple was instant and intense from the moment they came face-to-face for the first time in this book; and the hot romance spilled over onto the pages with a little teasing between the characters. The way this story ended had me loving the hero more than I already did, as he realizes that he could have something really great with Sara if he's willing to take a chance. Can he convince Sara that he's ready for love, family and happiness? However, it was the epilogue that wrapped this story up wonderfully, because of Sebastian and the last line of the story. Finally, he knows how good love can be. I would recommend From Passion to Pregnancy, if you enjoy the friends to lovers trope or books by authors Caroline Anderson, Emily Forbes, Alison Roberts and Annie O'Neil.
Book Info:

Publication: September 1st, 2017 | Harlequin Medical | Hot Brazilian Docs #4
After just one night…
The last thing Dr. Sebastian Texeira wants is to settle down, but when one sizzling night with sexy nurse Sara Moreira results in pregnancy, he feels he must do the right thing!
Sara refuses to marry for anything less than love. Though she does agree to work at Sebastian's hospital—where the temperature between them grows hotter than ever! All Sebastian needs to secure their happiness is to admit how much he really loves Sara, but sometimes the simplest things are the hardest to do…