Geek Girls Don't Date Dukes by Gina Lamm is the second book in the Geek Girls Series and is just as wonderful and funny as the first book.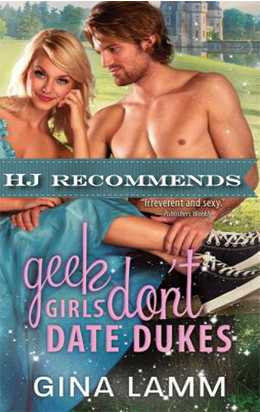 Leah Ramsey is a Theatrical Teacher and best friend of Jamie Marten (star of book one). After her ex asks her to be a bridesmaid in his upcoming wedding, Leah is beginning to think that she will never find the right man for her. All she wants is to find a man who will respect, protect, and love her, much like her best friend Jamie found in her new husband Micah (Mike) Axelby, Earl of Dunnington. When Jamie's "fairy godmother", Mrs. Knightsbridge shows up and offers Leah the chance to travel through the "magic mirror" of the 200 year old bureau to find her true love in the house hold of Duke of Granville, she jumps at the chance to find her one true love
Avery Russell, valet of the Duke of Granville, is busy cleaning the Dukes boot and making sure that the new bureau recently purchased is setup to the Dukes specifications. Imagine his surprise when a beautiful angel falls through the mirror and into his arms stating he is her one true love. After speaking to Leah and knowing that she has set her heart n marrying the Duke, Avery will stop at nothing to help her achive her goal, even if it breaks his heart.
Avery knows that he is not good enough for Leah, she deserves so much more than he could ever offer her. But as Avery and Leah soon learn the heart wants what the heart wants. But when a secret from Avery's past puts Leah in danger, will Avery be able to keep her safe, or will he lose the "angel" who brings light into a life that has been darkened for too long?
I loved this story. I was lucky enough to read books one in this amazingly funny series, and book two is just a wonderful. I fell in love with Leah and Avery. All Leah wants is to find that one person that will be her soft place to land, that will love her with everything in him. Avery has not had any love or compassion since the death of his mother. Try as he might to make something of his life and move away from his past, it keeps coming back to haunt him at every turn. I love how these two accepted the things, about the other, that neither thought anyone would be able to look past. It was just a love that was ment to be. I would highly recommend this book.
Book Info

Publisher: Sourcebooks Casablanca Release date: September 3, 2013
The Royal Treatment
All Leah wanted was a little gallantry. But in this day and age, chivalry was most definitely dead. If only there were a way to travel back in time and snag her very own duke…
Avery Russell was polishing some boots when a woman fell through the bedchamber mirror into his arms. All he could make out from her breathless babbling was some nonsense about "my one true love, Your Grace." Clearly the chit was mad if she couldn't tell a valet from a duke!
As much as Avery wanted to give in and give her a good tumble, he knew it wouldn't be proper. No, he'd take as long as necessary to convince Leah that sometimes a duke just won't do.