In God of Wine (Immortal Matchmakers, Inc #3) by Mimi Jean Pamfiloff, The God of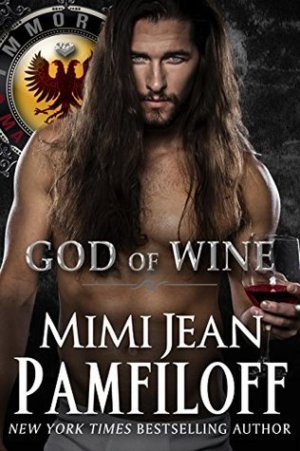 Wine, aka Acan, aka Belch, is slowly coming out of his drunken haze to realize a couple of things. First, being sober is SO not fun. And second, the 'illness' that is turning good immortals bad and bad immortals good is beginning to affect him as well. With the biggest celebration of the year–a time when he is at his strongest–only weeks away, Acan knows he must find his true mate. But the Universe is playing tricks when he figures out a health-obsessed gym owner is his match. Can an out of shape party god with a penchant for going pantless truly fall for a fitness freak? He's afraid to find out the answer.
"And what do you propose I do? Mate with a woman who doesn't know how to have fun? Who hates drinking, the one thing I'm truly gifted at? I am the God of Wine and Intoxication. My role is to help humans–"
"You're a man-child, and it's time you grew up. People's lives are on the line…"
Margarita's success in owning a fitness center while raising her teenage daughter on her own has been hard-won. Years of struggling emotionally and financially have paid off and now she's hoping for smooth sailing. But from the moment she runs into Belch in an elevator her life is turned upside down. He shows up everywhere spouting crude remarks and is hardly ever fully dressed. Okay, not that she minds that last part. Margarita can't shake the physical connection they have and wonders how she could be attracted to her polar opposite. Belch/Acan is an unexpected complication she's not sure how to deal with. But sometimes surprises can turn out to be the best things in life.
'…She'd never met a man that made her feel like this. Adored, special, and the most important thing in his life. Her heart thrummed with happiness in his presence and told her one thing: We are meant to be together.'
God of Wine had all of the silliness and good time atmosphere you'd expect in a book about THE party god, Acan–aka Belch. Filled to the brim with wacky fun, yummy cocktail recipes, impending doom for several immortals, and yes, even a Minky the unicorn sighting, this was one unique and entertaining story.
'I am the party god. I do not judge. I seek to bring fun and lack of inhibition to the masses so that they may tap into their wild sides.'
Okay, so right off the bat I'll warn readers in similar fashion to what author Mimi Jean Pamfiloff noted at the beginning of this book: this was about the God of Wine and Intoxication so expect that there will be drunkenness, lots of crude language, partial and/or full nudity, and fairly graphic love scenes. So. If some or any of this might offend you then, well, this might not be the story for you. But. If you enjoy a raunchy good time then this will have you giggle-snorting for sure.
Acan was such an entertaining character to get to know. He was sort of a lickable–I mean, a likable frat boy type of guy who was the life of the party. It was his job after all as the God of Wine. He seemed quite arrogant, rude and sloppy at first but I loved that once we got to know him we saw how much Acan truly cared about making people happy and helping them forget the stresses of their everyday lives. I was surprised by how loyal and protective he also was of his 'brothers and sisters', the other gods and goddesses we've met along the way. And I have to say that his ability to look into someone's eyes and know the exact drink for them was a ridiculously cool gift to have as the official party god.
Acan's perfect mate turned out to be a woman named Margarita. (How appropriate, right?) She was a complicated health-nut-slash-single-mom-of-a-teenage-daughter who was made of strong stuff, had a tremendously caring heart, but had been through quite a lot in her lifetime. I kind of loved that she didn't take any of Acan's guff and stood up for her and her daughter's well being. As you can tell, Margarita and Acan's relationship was a bit (a lot) antagonistic, but when they finally came to terms with their connection they had a really sweet, almost tender attitude toward each other that made me go "Awwwww".
God of Wine is the perfect book to settle down with if you're looking to cut loose, laugh, and let go of your worries for a bit. The offbeat characters will have you smiling and shaking your head, the screaming hot romance will have you fanning your face, and the message of happiness and love will have you sighing as you read the final page.
Book Info:

Published November 24th 2016 | P&S, Inc. – Mimi Boutique | Immortal Matchmakers, Inc. #3
From New York Times Bestseller Mimi Jean Pamfiloff Comes Book #3 of the Immortal Matchmakers Inc. Series. (Standalone)
CAN ROCK-HARD ABS SAVE THE WORLD? HE SURE THINKS SO
Reckless and wild, the God of Wine has been partying for over ten thousand years. And New Year's Eve, when humans around the world succumb to his naturally occurring spike in powers, is his biggest night. Only this year, things are a bit different.
A plague is sweeping the immortal community, and he's turning downright evil. All those New Year's bashes will turn into bloodbaths if he doesn't stop the transformation. Sadly, the only known cure is finding a mate. Not so easy for a rude, beer-bellied mess who's definitely not husband material.
But can a little gym time and help from the pros at Immortal Matchmakers, Inc., turn him into a divine sex machine? Absolutely!
So watch out, ladies! The God of Wine is lookin' for love. And he has absolutely no clue what he's doing.