In Going Down Easy (Billionaire Bad Boys #1) by Carly Phillips, Billionaire Kaden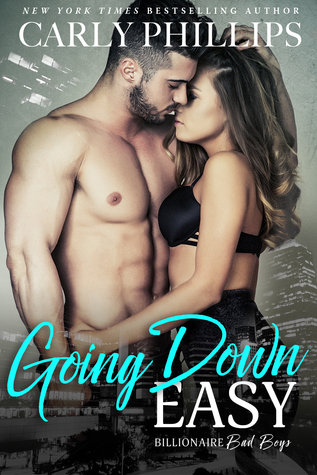 Barnes is known for being a tech genius but a tough man to work for thanks to his high standards. What people don't know about is the anxiety that rules his life on a daily basis, something he tries to keep under control. So when Kade arrives at Blink headquarters to find his newest personal assistant already making changes he didn't approve of, he's not sure beautiful Lexie will be sticking around. But Kade is soon enamored with her self-confidence and her ability to deal with his quirks. The fact that she's sexy as all get-out doesn't hurt either. He has a feeling that things are about to get complicated in the most satisfying of ways.
"Tell me what you want," she said, frustration tingeing her tone.
Frustration he felt as well. "I. Want. You." No sooner had he said the words than she launched herself against him, and his mouth came down hard on hers.
Lexie Parker is hoping her new job with gorgeous Kade will work out and that her family won't interfere like they usually do, causing her to have to quit her job to take care of them. Don't get her wrong. She loves her sister and parents dearly. It's just that she feels like she's spent her life taking care of their needs. And this job has brought her happiness, meeting a man who she understands on a basic level. Kade may have his own issues but he's proven to Lexie that he is honest and is extremely interested in her. The feeling is mutual. But she's not sure she should start a relationship, with her family drama sure to start up again at any moment.
'Kade had brought something to her life she hadn't known she'd needed. She'd spent so much time taking care of her sister and putting her own needs aside she'd almost forgotten she had desires that most women took for granted.'
Carly Phillips is at the top of her game with Going Down Easy. And as much as I adored her Dare to Love series, I think Billionaire Bad Boys might just be my new favorite.
This was definitely not your typical billionaire story. Yes, our hero Kade had money, power and a grumpy attitude. But he was not super controlling (aside from his ADHD/OCD tendencies) or demeaning to women as many heroes are painted as of late. And he realized right away that he had met his match in our heroine Lexie. She was another breath of fresh air in this genre, being smart, compassionate and willing to stand up for herself. I absolutely loved the scenes where Kade and Lexie went toe-to-toe verbally. Their dialogue was quick-witted, fun and showed how much of a perfect match they were.
The other thing that was a bit different in comparison to some contemporary romance books was that both Kade and Lexie's lives had been touched by some form of mental illness/issues. Kade suffered from anxiety and ADHD, so many of the scenes from his POV touched upon how it affected his daily life. Lexie's mother and twin sister also had serious issues that she'd had to deal with and assist with, effectively putting her life on hold for them. So Lexie and Kade understood each other and recognized that shared connection right away. It led to a romance filled with acceptance, genuine love and concern, but not a lot of angst.
This fast-paced romance is sure to be steamy enough for Carly Phillips' fans and complex enough for discerning readers. Going Down Easy was a perfect blend of a bad boy with a golden heart, a feisty but loving woman, and the complexity of family and friendships.

Book Info:

Publication: Published July 19th 2016 | CP Publishing | Billionaire Bad Boys #1
Meet Kaden Barnes.
Alpha-licious in the most unexpected ways, Kaden Barnes always gets what he wants.
Enigmatic and exacting, he's unable to keep an assistant for long. Until Lexie Parker arrives. She's no-nonsense, efficient and all business… She's also hot as sin and soon starring in Kaden's dirtiest fantasies.
When their passion for each other reaches a boiling point, Kaden may think he's calling the shots, but for this billionaire bad boy, going down easy has never felt so good.