Good Girl by Lauren Layne: Rumors swirling and needing to write a new album, country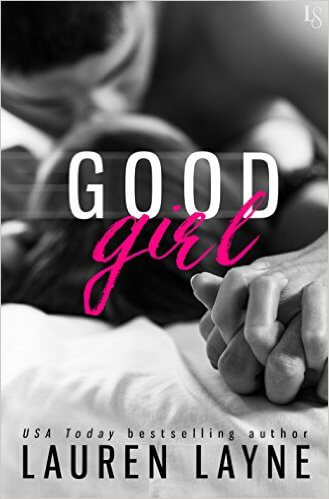 singer sweetheart Jenny takes off to a remote location from her childhood in Louisiana. Expecting peace, quiet, and alone time, her plans are blown to bits when she meets the apparent caretaker, Noah, and the attraction.
Escaping his ex-fiancé and the future his father set out for him, Noah has no idea what he actually wants to do with himself. Introduced into his father's world at fourteen, he feels split between the trailer park and the CEO position. And the last thing he need is the sexy Hollywood country star messing up his private time. Pretending to be the caretaker of the property instead of the owner, turns out Noah can't get enough of Jenny.
Going hot and cold, the two fight against their attraction. Their futures are on separate paths and the deeper they fall the harder it will become when the truth comes out and when they have to move on from their home away from reality.
His head snaps up. "Handcuffs?"
"Yeah. Don't you ever watch TV? People are always getting tied up in these things."
Noah's dark gaze grows speculative. "That intrigue you, princess? Being tied up?"
He's messing with me.
I know he's messing with me, and I want to play it cool, bit I blush anyway, just a little.
I just love Lauren Layne's books. Their relationship got a little too cold at times, but overall I loved them, their resistance, and their fall deeper and deeper into love. They go back and forth for much of the story with a slow build filled with getting to know one another beyond the physical attraction.
They're fighting is generally cute, and hot, too. I loved this rougher fall into romance because neither one wanted it. They have their own very separate lives, and both are lost in not knowing exactly what they want but knowing it doesn't match up with the other person's ideal.
Good Girl is definitely a standalone, and one I highly recommend for those who love a slow build and a hard journey to love.
Book Info:

Publication: May 17, 2016 | Loveswept | Love Unexpectedly #2
Lauren Layne brings all the unpredictable heat of her USA Today bestseller Blurred Lines to an all-new cast of characters! Country music's favorite good girl is hiding away from the world—only to find herself bunking with a guy who makes her want to be a little bad.
Jenny Dawson moved to Nashville to write music, not get famous. But when her latest record goes double platinum, Jenny's suddenly one of the town's biggest stars—and the center of a tabloid scandal connecting her with a pop star she's barely even met. With paparazzi tracking her every move, Jenny flees to a remote mansion in Louisiana to write her next album. The only hiccup is the unexpected presence of a brooding young caretaker named Noah, whose foul mouth and snap judgments lead to constant bickering—and serious heat.
Noah really should tell Jenny that he's Preston Noah Maxwell Walcott, the owner of the estate where the feisty country singer has made her spoiled self at home. But the charade gives Noah a much-needed break from his own troubles, and before long, their verbal sparring is indistinguishable from foreplay. But as sizzling nights give way to quiet pillow talk, Noah begins to realize that Jenny's almost as complicated as he is. To fit into each other's lives, they'll need the courage to face their problems together—before the outside world catches up to them.