Good Gracie by Inés Saint: Josh made his career as a lawyer by taking on the tough, unpopular cases. Defending 17-year-old Gracie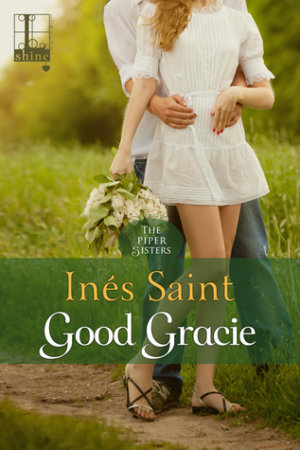 changed his life and put him on a path that is very different from what he or his parents imagined for him. He's a tough, unbiased prosecutor and a total workaholic who has no time for a serious relationship. He's preparing to kick off his campaign to run for County Prosecutor as an Independent and is preparing for a tough election.
Gracie has no desire to return to Spinning Hills. As the girl from the wrong side of the tracks, she showed incredible bravery and courage to fight back when her boyfriend taped her without her consent and showed it off to others. Ever since then, she has tried to be invisible and doesn't trust men. She has focused on her family and her career.
Josh was a solid and steady presence for her during the lawsuit and both were hurt by the malicious rumors that there was something romantic between them. They had a good lawyer-client relationship, but it was still awkward to run into each for the first time so many years later. Gracie still trusts Josh, but he now brings out feelings she hasn't had since before the videotape scandal.
"You dimple when you're amused. Why are you amused?"
He snaked his hands behind her waist and pulled her closer. "Is this more flirting practice?" He looked at her mouth. "Teasing me about a wife and reminding me of my blasted dimple?"
Josh is thrilled to see Gracie again and have the chance to get to reconnect. Gracie has certainly changed in some respects from the teen he knew. He's torn between surprise, intrigue, and dismay when he learns that Gracie is trying to really move past her fear of men as he is starting to see her as the attractive woman she has become. The more they spend time together, the more both want something real, in spite of Josh's campaign and the potential scandal.
"And I'm only asking if you were jealous because I don't want to make a fool of myself by overexplaining things you may not be interested in."
She raised an eyebrow, not ready to admit to anything. He was being sweet, but he was joking. "I'm interested. Explain."
Good Gracie is a heartwarming tale of rediscovery. Ines Saint combined humor, conflict, and healing with good suspense. Ms. Saint created memorable and entertaining characters in Gracie's family. Fans of R.S. Kovach and Cate Cameron will enjoy Good Gracie.

Book Info:

Publication: Expected publication: April 11th 2017 | Lyrical Shine | The Piper Sisters #2
Spinning Hills, Ohio, home of the third most haunted street in the state, is the perfect place for three sisters to banish the unhappy specters of their pasts—and to let romance cast its spell . . .
Gracie Piper is good at being invisible, and she likes it that way. At just seventeen, she took a very public stand against the boy who passed a revealing video of her all over school. Ever since, she's staked her life on staying out of the limelight. But when she moves back to Spinning Hills, she comes face to face with her painful past. In the same historic building Gracie's boss has assigned her to supervise renovating works the man who helped her find justice nine years ago, and nearly lost his own career in the process. A man who suddenly arouses feelings that make Gracie weak in the knees . . .
Josh Goodwin is sure he's seeing a ghost when he spots Gracie in the halls of his office building. Taking her case was a professional risk that became all too personal when a bitter ex accused him of getting involved with teenage Gracie. Seeing her again is opening old wounds, and threatening brand-new ones—his campaign for County Prosecutor won't withstand a brand-new scandal. But there's something about sweet, gorgeous Gracie that brings out the crusader in him—and the thing he'll fight hardest for is her love . . .