In Good Vampires Go to Heaven (Deadly Angels #8) by Sandra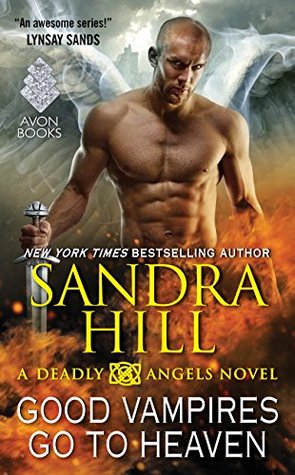 Hill, Being a double agent is a tricky thing. It's even trickier when you're a Lucipire, a demon vampire, who is surrounded by Lucifer's right-hand men–er, demons. Zebulan has been successful in getting his friends, the Vangels, (Viking vampire angels) information to defeat demons so far. His hope is to become a vangel someday himself. But Zeb's treachery is found out and for a year he endures unthinkable torture. Battered and bruised, he is rescued by a woman who looks like Satan's sister, a witch named Regina, who manages to get him to safety and steal his heart in the process. But the epic battle they're faced with as he begins to heal could threaten to tear them and the entire world apart.
'He felt tears well in his closed eyes at the utter pleasure/torment of their kiss. It was wonderful. It was terrible.
Then the unthinkable happened. Reflexively, he turned her head and sank his fangs into her neck.
And she let him.'
Vangel witch Regina has had enough of the Sigurdsson brothers and their chauvinistic Viking ways. She's tired of staying behind when they go on missions, being that she's one of the very few female vangels. So when she cooks up her own plan to rescue Zeb from demon Jasper's castle Horror, she intends to finally prove her worth to them. She didn't expect to get tangled up with three crazy witch Lucipires or that she would be a possible lifemate to Zeb. Regina knows she will have to atone for her actions once back home, but it's Zeb and their powerful connection, as well as their battle against all Lucipires, that really has her worried about her future.
'He carried a sword as well as a foldable AK-47. Extra mags holding up to thirty bullets each were stored in specially designed pouches of the chest rig he wore. In other words, he looked hot, as in sexy as hell. Like a bald Magic Mike would look in vangel attire.'
Lots of mayhem, comical and otherwise, dominated Good Vampires Go to Heaven, which is likely to be the final full-length book in the Deadly Angels series. Fan favorite Zeb finally got his turn to shine this time around as we watched him fall in love and try to prove his worth to Archangel St. Michael.
'In that moment, Vikar realized that life as the seven brothers had known it was about to change, just as it had one thousand, one hundred and sixty-seven years ago when they'd first become vangels.
But where would that change put them next?'
This book was quite an adventure. It was of course filled with the funny conversations and quirky characters we've come to expect from Sandra Hill's popular series, but this was also about the epic battle between Good vs. Evil. Or Viking vampire angels vs. demon vampires, in this case. So even though the overall tone of the story was still rather lighthearted, there were some emotional, serious moments as well. And be forewarned that considering the bloody battles being fought, plus with the description of Zeb's torture, some of the scenes may make readers a little squeamish.
Like most of the books in this series, we got to revisit multiple characters here as everyone prepared for the big battle. It was great to see what everyone was now up to and how the Sigurdsson brothers were still their hilarious Viking selves. I did really like getting more background on Zeb and finally getting to know Regina the witch. I've liked Zeb and his willingness to play double agent for the good guys all along. His tragic history was so sad to read about but I loved seeing him finally dealing with his past, letting go of his guilt, and allowing himself get close to someone again.
Regina was pretty cool but she was a little harder for me to like sometimes. She was quite a feminist and could definitely take care of herself, between her spells and her expertise with knife fighting. She also had a rather traumatic past so I understood her stance on men in general. It just seemed like there were a few times that Regina was tougher on Zeb than I thought she should be. But it all worked out in the end of course. I did have to laugh at some of the conversations she and Zeb had and the way they both were trying so hard to deny they might be lifemates. Those scenes were pretty lively (and pretty hot!).
It's sad to say goodbye to this unruly bunch of characters–sniff! sniff!–but things ended in the best way possible for them. Who knows. We might see a novella at some point, but if not, I've enjoyed my time with the Vangels and their cohorts immensely. I can always count on them for more laughs when I undoubtedly reread their stories in the future.
Book Info:

Publication: November 29th 2016 | Avon | Deadly Angels #8
New York Times bestselling author SANDRA HILL continues her sexy deadly angels series with a good demon who might finally get his vangel wings…
WHEN HE WAS BAD . . .
Two-thousand-year-old vampire demon Zeb is supposed to spend eternity turning mortal sinners into bad guy Lucipires like himself. That way, they can grow their numbers and fight the vampire angels known as Vangels. But Zeb is a bad boy in a good way—secretly working as a double agent for none other than St. Michael the Archangel in hopes of one day earning his wings. Problem is, Zeb's betrayal is discovered.
Hello, demon dungeon.
HE WAS VERY BAD . . .
Until Regina, a foxy, flame-haired Vangel witch on a rescue mission, busts out Zeb, along with three oddball Lucipire witches. Hello, temptation!
BUT TOGETHER THEY WERE VERY GOOD . . . !
Their escape unleashes a war to defeat all Vangels forevermore. In an epic madcap battle between good and evil, a Demon just might earn his wings . . . and spend eternity with the Vangel of his wildest dreams.