The Good Wife by Jane Porter begins where The Good Daughter left off and takes us back into the life of the Brennan's. It is the story of the youngest daughter, Sarah, but The Good Wife is also so much more than just Sarah's story.
Sarah lives on the opposite side of the country from her family with her professional baseball player husband Boone and their two kids. She's back home, having just lost her mother. All of the Brennan siblings have things going on in their lives, some good, some bad, but Sarah is really struggling. She has never gotten over her husband's infidelity 3 years ago. They've stayed together, Boone swears it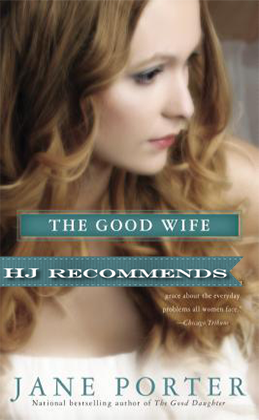 was a mistake he won't repeat, but Sarah just can't move on. She is full of doubt, paranoia, and unhappiness. She's drinking too much and quick to judge other people. Sarah is full of doubts about her and Boone's relationship. Boone loves Sarah and wants their marriage to work, but Sarah's behavior is becoming more out of control and dangerous. He's not sure he can keep living how they are, despite their love for each other. Sarah can't seem to help herself. She scrutinizes Boone's behavior, checks up on him, goes through his stuff, and is not only in danger of losing her marriage, but of losing her sanity. Somewhere along the path of their marriage, Sarah feels like she's lost herself. Dealing with the death of her mother, family issues, and her and Boone's marriage is pushing her closer and closer to the edge. Part of Sarah knows her behavior is becoming increasingly irrational, but she can't stop herself. Sarah is going to have to do some real soul searching and decide if she can really forgive Boone and fight for her marriage, or if she'll have to give up on their marriage. Will Sarah have the courage she needs to do what she feels is best?
Along with Sarah's story, The Good Wife has a strong secondary story. Lauren is just living life after losing her teenage son. She is existing, keeping busy, staying away from reminders. She was a very young mother and has had no relationships…and that is the last thing she's looking for. Lauren plays things safe, so she can't be disappointed or hurt. She's keeping her heart and herself fairly isolated. That is until she meets Boone and then his team mate Chris. The more she resists Chris, the better the chase becomes! Chris can be really good for Sarah if she can take a risk on him!
Jane gives us detailed glimpses into the lives of the other Brennan siblings that we've met previously. They are certainly not without their issues too…Meg's life has been turned upside down, Brianne is hiding something, Tommy and his wife are struggling to hold onto their marriage and they've all just lost someone very important to them. Kit seemed to be the only one who was settled into her life. I really, really loved seeing her and Jude again!
The Good Wife was an involved, intriguing read about the evolution of relationships, love and loss. Jane once again pulled me in from page one and kept me immersed in The Good Wife. Jane writes about real issues that many people deal with, and characters that we can love and maybe not love. Jane writes with emotion, and you will feel along with the characters in The Good Wife. I did have a hard time liking Sarah…I could understand how she felt about Boone's infidelity and the nagging doubts she always has…but she chose to stay in the marriage. Even with her conflicting feelings though, she has not found a way to cope with anything, nor has she tried to get help. She loves Boone, but treats him quite poorly. I was conflicted in my feelings for her too because she was so ready to forgive her sister Meg (I will not go into detail here about that!) because Meg 'is a nice person'…Sarah had some double standards. Sarah was a strong character, but I had trouble connecting with her because of her personality. I did like her a bit more towards the end of The Good Wife when she finally started to realize she had to do something! Yes, what Boone did was wrong, but he has spent the past 3 years paying for it…when is it enough? I really think he deserves for the marriage to move onto whatever is next, whatever it is. It is time for Boone and Sarah to both heal. That will either be together or apart, but it has to happen.
I loved Lauren (and Chris) much more! Those two really spoke to me for some reason…Lauren is so hurt and Chris is so taken with her, wooing her. I really enjoyed their story and watching their relationship try to grow. And I LOVED the older waitresses in the bakery Lauren ran! They brought some much needed humor into a book filled with serious, thought provoking scenarios. They were perfect just to lighten things up a bit!
Overall I really enjoyed this final book in the series. I love Jane's writing, she can easily bring characters and situations to life. No matter what your feelings are towards the people in The Good Wife, you will be drawn in, wondering what could possibly happen next, and will it work out how you think it should? I'd recommend this and all of Jane's books to any romance reader. I would highly recommend reading the other books in this series before reading The Good Wife. The Good Wife is all the better when you can understand the people and their backgrounds in it.
Book Info:

Published September 3rd 2013 by Berkley Trade
Is it possible to love someone too much?
Always considered the beauty of the family, the youngest Brennan sister, Sarah, remains deeply in love with her husband of ten years. Boone Walker, a professional baseball player, travels almost year-round while Sarah stays home and cares for their two children. Her love for her husband is bottomless—so much so that her sisters say it will end up hurting her.
Living apart most of the time makes life difficult, especially since Sarah often wonders whether Boone is sharing his bed with other women on the road, even though he swears he's been true to her since his infidelity three years ago. While she wants to be happy and move forward in her life, Sarah constantly fears that Boone will break his promise. Now with Boone facing yet another career change, tension rises between the two, adding more stress to an already turbulent marriage. Emotionally exhausted, Sarah can't cope with yet another storm. Now, she must either break free from the past and forgive Boone completely, or leave him behind and start anew . . .