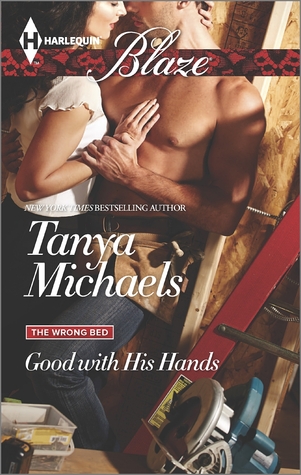 Good with His Hands by Tanya Michaels: Do you believe in fairy godmothers?
Danica Yates felt like a fool, never a comfortable feeling. A feeling made worse when it seems like everyone you know is pitying you as well. Okay so she hadn't chosen the right man, obviously. Yes, he lied to her. Well no more. No more liars and no more cheats. She was going to be straightforward and she would cut anyone else out of her life that wasn't. That was just the end of that story.
Sean Grayson wanted to be close with his brother. After all they were twins and they had been close, once upon a time. Then something happened and they weren't anymore, it's not that Sean could put his finger on it, but he was willing to try one more time, hence why he was sneaking out of his brother's office on a Saturday afternoon.
A chance meeting in the hallway of her office building, on what would have been her wedding day, with someone she thought she had been crushing on for a while, was that what caused her to be so forthright? He couldn't imagine this woman was single. Was everyone else in the world blind? Would one night be enough? Would one lapse in the truth end it all? Or would a fairy godmother really come down to make things alright?
Miss Michaels has a winner here. Good with his hands is great for our hearts. Seriously, these characters are real, relatable and riveting. The writing style is unique in that she allows you to see and feel things from both Danica and Sean's perspectives without making you feel jumbled or jumpy. While this story looks like it could be a bit predictable when reading the synapsis you do need to be prepared for the roadblocks and detours. You also may never look at swimwear or flippers the same way again. You should definitely pick up this novel and see if Sean can be good with your hands. ☺

Book Info:

 March 17th 2015 by Harlequin
The right man for the job
Real estate agent Danica Yates did everything right. She found the right man, waited the right amount of time to get engaged and planned the perfect wedding. Then everything went very, very wrong. Now Dani is left with one unworn bridal gown, one canceled honeymoon and one jerk of an ex-fiancé. The bright side? She can finally make her move on the gorgeous man known only as Hot Architect…
Except that Sean Grayson is actually Hot Architect's Even Hotter Twin Brother. But before Sean can admit his real identity, the chemistry between them takes over, fierce and demanding. He can't refuse her, or turn away from the blinding want that consumes them both. He knows he has to admit the truth…and convince Dani that the wrong brother is definitely the right man!