In Grigori by Lauren Smith, professor Madelyn Haynes has been dreaming about dragons. On sabbatical in Russia, she's determined to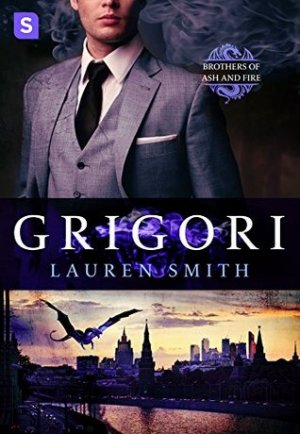 prove there's some truth to the myth that they existed. After looking at a book about dragons in the library, the last thing she expects to meet a man who looks exactly like the man mentioned as being a dragon in it. Grigori and his brother, Rurik, have a feeling that Madelyn is something more than human. When the truth comes out, it not only puts them in danger, but every other dragon that still exists. Yet Grigori wants to protect her, especially when it becomes clear another faction of dragons is out to put an end to the last three dragons in the Barinov family.
The story moved a bit slowly at points, but I thought the author did a good job building up the characters and developing the world of the dragons. I've read a couple of dragon shifter books, and this one definitely had some of the best world building I've seen.
Both Grigori and Madelyn are strong characters who are willing to fight for what they believe in. Madelyn, for someone determined to prove that dragons existed at one point, initially has trouble believing they still exist. Still, she's willing to keep an open mind and hear out Grigori and Rurik .
It was interesting to find out how Madelyn and the Barinov's were connected to one another. I also enjoyed how accepting her adoptive parents were of everything.
There was one part about Grigori's assistant that didn't really go anywhere, which left me wondering why it was included to begin with. The story would have worked just as well without it.
I'm looking forward to reading more about Rurik and their exiled brother, Mikhail. Rurik was featured a lot in this book, and having suffered a tragic loss, it will be interesting to see how he bounces back. Mikhail was only briefly mentioned in this book. Having been exiled by their father, he has stayed away until he can complete what his father wanted him to, despite the fact the man is now dead. He's definitely the most mysterious of the brothers.
While it wasn't my favorite paranormal book, I still enjoyed it. If you like dragon shifter books, it's definitely worth giving this one a read.
Book Info:

Publication: October 18, 2017 | Swerve | Brothers of Ash and Fire #1
He's one of the last of a powerful but vanishing bloodline …
Grigori Barinov is the eldest in an ancient line of dragon shifters and the guardian of his family's lands and fortune. Sworn to protect their history and magic, he won't rest until he neutralizes any threat to their existence. When he discovers an ancient manuscript that exposes his family and their dragon lineage has fallen into a mortal woman's hands, he knows he must get the book back by any means necessary. If that means seducing a nosy American woman with an intoxicating scent, he is more than willing to carry her off to his palatial home deep in the heart of Russia.
She's the one woman who could expose him to the world…
Madelyn Haynes has never fit in. As an adopted child she grew up in a loving home but never felt as though she belonged. Plagued by mysterious dreams she's had of a silver scaled beast ever since she was a little girl, she is convinced dragons are real. While in Russia working on her PhD in mythology in order to escape the ridicule from fellow professors, she unexpectedly crosses paths with the sexy and dominating Grigori, and after just one night with the man whose eyes seem to burn, she starts to change inside. Isolated in the Russian wilderness Grigori calls home, Madelyn can't help but fall under his sensual spell, yet something deep inside her calls out that she can't trust him. She has to show the world dragons are real to salvage academic reputation, even if it means costing her the heart of the dragon she's falling in love with.