Hanging by a Thread by Jenna Sutton: Bebe is an incredibly intelligent woman who has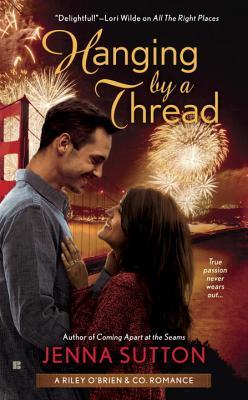 very little experience dating. Due to her intelligence, she accelerated through school and college, so she missed out on the typical teen dating years. She's also been focused on getting her education and collecting degrees in an effort to make her family proud of her. Cal loves his job and working in the family business. He's developed a playboy reputation, but he knows the wants a wife and a family someday.
With pressure increasing for Bebe to finally marry her unwanted fiancé, Bebe decides it's finally time to lose her virginity. When Cal becomes aware of Bebe's plan, he doesn't hesitate to offer his assistance. They wanted each other from their first meeting, but they're interactions always result in bickering to mask their true feelings.
"Why are you being such as ass?" she snapped, pushing against his chest with her palms.
"Because you bring out the best in me."
After a beat of stunned silence, she started to laugh. "You bring out the best in me too."
After negotiating terms, they spend time together so Bebe can take Cal up on his offer. They quickly go from fighting to fighting to keep their hands off of each other. They have amazing chemistry and they finally have a chance to get to know each other beyond their previously contentious interactions as Bebe is best friends with Cal's sister. Both find themselves wanting more than their arrangement, but Bebe has an arranged fiancé waiting in the wings.
Her eyes widened. "I wasn't talking about a bet between you and me."
"Why not?"
She shook her head. "It would be like gambling with the devil. You're too crafty."
He chuckled. "It's one of my best qualities."
Hanging by a Thread is funny, sexy, and entertaining. Hanging by a Thread can be read as a standalone in this contemporary series. Jenna Sutton provides strong, entertaining, and colorful characters you would like to actually meet. Ms. Sutton shows that family can be who you choose rather than what you're born into. Fans of Kimberly Lang, Carly Phillips, and Beth Ciotta will enjoy Hanging by a Thread.
Book Info:

Publication: June 7th 2016 | Berkley | Riley O'Brien & Co. #3
Thirty-year-old Bebe Banerjee is desperate to get rid of two things: her fiancé and her virginity. Escaping her arranged marriage might be impossible, but she refuses to give her firsts to an entitled jerk who lives on another continent. Instead, she devises a plan that guarantees another man will get her momentous firsts. But she never imagined that man would be Cal O'Brien, the gorgeous heir to the Riley O'Brien & Co. denim empire…
Although Cal has always been fascinated by Bebe's brilliant mind and beautiful eyes, he's never pursued her. She can't stand the sight of him, and every time they're in the same room, they end up trading insults. Yet when he finds out about Bebe's bold plan, he makes his move, unaware of her upcoming nuptials. He promises to make her firsts unforgettable, but he doesn't know how hard it will be to forget her when their arrangement ends.