In Hard as You Can (Hard Ink #2) by Laura Kaye, Former Army special ops intelligence officer Shane McCallan is on a new mission: to clear the names of his brothers in arms after their final mission overseas went haywire. Their work so far has allowed him to cross paths with a beautiful redhead named Crystal, a waitress at Confessions strip club. Obviously skittish and used to dealing with the darker side of life, she helped him while rescuing a civilian, putting herself in potential danger. Shane is determined to find out what Crystal is hiding. If there's any way he can help her situation out, he will do it. But hopefully his emotions won't cloud his judgement as they both become tangled in the dealings of The Church Gang.
"So my intentions here"–he pursed his lips and shook his head–"they're not all honorable. Because I want you. I want you so bad I can hardly breathe."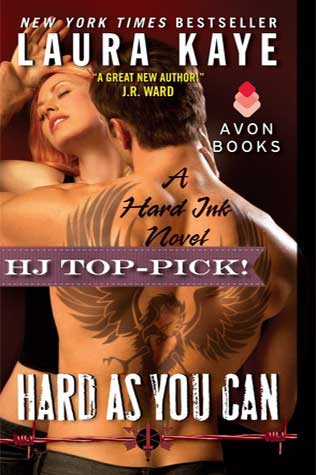 Crystal has had to steel herself against her emotions for years, working a demeaning job to pay off old debts her father incurred while part of The Church Gang in Baltimore. She never could have dreamed of the horrors that she would endure in her effort to protect her sister Jenna. Crystal plans on escaping her situation when Jenna graduates college, but a life on the run still may bring them danger. Then she literally runs into Shane McCallan and his friends on a rescue mission. Crystal chooses to help them out but she's not sure at what cost to herself. When Shane reaches out to offer a helping hand, she's not sure if she can trust him. She's never been treated so kindly before and her growing feelings for him may prove to be more dangerous than she could have ever realized.
"Nothing you could think or say to me would be stupid. Ever. Please don't devalue yourself that way because I never would."
Crystal's throat went tight. Because Shane–in all his goodness, in all his decency–was the real deal. And it was both amazing and tragic that she'd ever met him.
I absolutely adore this series! But what's not to love? There's hunky alpha men with hearts of gold, who have sworn to protect others at all cost. There's strong, lovely women who can stand up to said alpha men and wrap them around their little fingers. And there's even a cute, little three-legged dog (Eileen!) to pull at your heartstrings.
I have to say, I connected with Crystal and Shane right away. There was an innate goodness in them both that made me really root for them and hope they would finally find peace in their lives…together. Crystal's story was heartbreaking, with all the sacrifices she's had to make to take care of her sister and her father's debt. If anyone is deserving of a fairy tale ending, it would certainly be Crystal. Her strength was awe-inspiring. Shane thought so as well and, thank goodness, he was able to convey that sentiment to her.
Shane himself was no slouch. I loved how Laura Kaye created his character as someone who has also been through tough times himself, using his guilt to become a "righter of wrongs" and who protects those who can't protect themselves. Shane was such a solid, nice, albeit smokin' hot, guy with southern charm you couldn't refuse. His willingness to put his safety aside to get Crystal and Jenna out of harms way was courageous and proved his loyalty.
I might suggest reading book one, Hard as it Gets, prior to this one simply because it gives the full background on the team of guys and what situation they currently find themselves in. Plus book two takes up precisely where book one left off. You could probably read this as a stand alone, although I don't think you would get the full effect and understand the plot completely.
With mile-a-minute action scenes and the most down-to-earth, genuinely sincere characters I've read in a while, Hard as You Can was a wild, sexy ride I will definitely be reading over and over again.
Book Info:

Published February 25th 2014 by HarperCollins Publishers
Five dishonored soldiers.
Former Special Forces.
One last mission.
These are the men of Hard Ink.
Ever since hard-bodied, drop-dead-charming Shane McCallan strolled into the dance club where Crystal Dean works, he's shown a knack for getting beneath her defenses. For her little sister's sake, Crystal can't get too close. Until her job and Shane's mission intersect, and he reveals talents that go deeper than she could have guessed.
Shane would never turn his back on a friend in need, especially a former Special Forces teammate running a dangerous, off-the-books operation. Nor can he walk away from Crystal. The gorgeous waitress is hiding secrets she doesn't want him to uncover. Too bad. He's exactly the man she needs to protect her sister, her life, and her heart. All he has to do is convince her that when something feels this good, you hold on as hard as you can—and never let go.