Hard Beat by K. Bromberg: After the death of his partner in war torn Middle East, foreign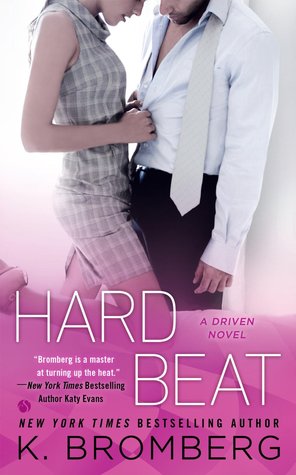 war correspondent Thomas Tanner needs to get back to work and find a way to move on from his pain. But when given a new partner, a rookie photographer, he can't help but be brought back to the helplessness he felt after his best friend's death due to his inability to protect her.
But Beaux won't let him baby her, not when she's on her own mission. As they fight over his protectiveness and their mutual attraction, both Tanner and Beaux might find something they never expected. If only Beaux wasn't hiding her past from Tanner as they fall harder and harder for one another…
I don't know what comes over me other than wanting to shut her mouth, but it must be the feel of our bodies connecting, the heat of our tempers igniting the chemistry on constant spark between us, because without preamble my fingers are in her hair, and I crush my lips to hers. Savoring her taste. Goddamn it. It's everything I don't want but crave all the same because it tempts me and calls on me to have more.
First off, Hard Beat was interesting because it's only in the male perspective. Honestly, that's the only real thing I liked about the story. Otherwise the story line is just too unbelievable for me. It's going along as expected with her as photographer and he a journalist, but by the end an insane double twist occurs that just doesn't make sense and feels very unnecessary to me.
The characters, too, are over the top emotionally and even so not very interesting. Tanner is either angry or dopey in love, and Beaux has little personality beyond Tanner saying her standing up to him makes him both angry and hot. Also, a lot of the characters' comments are really sexist towards women and bothered me a lot to read, the more obvious comments being how a woman's body is wasted if it isn't having sex with a man or a woman can't be sexually harassed by a man if they've had sex. I don't know if Bromberg was trying to talk how men talk but I did not appreciate reading it at all.
The one thing I can say for Hard Beat is that the suspense does exist. What's going to go wrong? How are they going to be able to make it? So for that, if you're a K. Bromberg fan and like a dangerous location with journalistic intrigue I'd recommend you give Hard Beat a try.
Book Info:

Publication: November 3, 2015 | Signet | Driven #7
From the New York Times bestselling author of Sweet Ache comes a blistering new novel filled with danger, secrecy, and a desire that can't be sated…
Foreign war correspondent Tanner Thomas is addicted to living on the edge. Needing the adrenaline rush of his job to help him cope with a personal loss, he throws himself back into the game, concentrating all his energy on getting the next big story.
But when he meets his new photojournalist, Beaux Croslyn, he can't help but feel like he's losing his focus—and maybe risking more…
With secrets she won't address, Beaux is far from your ordinary woman. Determined to keep her distance, she's willing to pull Tanner in closer and hide behind the sparks flying between them. But as Beaux's past begins to put their relationship—and their lives—at risk, Tanner's determination to find the truth puts them both in jeopardy.
He's ready to chase her to the ends of the earth to find out if what they had was real, or if the danger surrounding them was just an exquisite heat fated to burn out…