Hard Cover by Jamie K. Schmidt is filled with witty banter, family drama, and some very kinky moments, between two people who are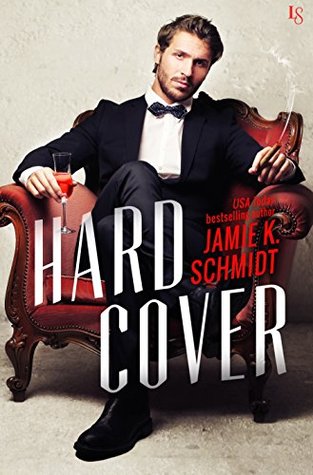 completely different from each other.
Rory Parker is your typical billionaire who likes to throw his money around. He's used to getting what he wants and if there is a standstill, he'll just throw more money into the equation. When he comes back to Haven to buy up the stores that don't fit the community's look, he gets more than he bargained for. Especially, when trying to go after a specific bookstore.
Dawn Nolan is a tantric bookstore owner who rocks her colored hair and piercings. Her bookstore isn't typical by any means. To say she offers more than books, is putting it lightly. You can even find sex toys in there. But more than that, women can come in without being judged. She wants to keep her bookstore, even though the money Rory is offering will pay off all her bills and give her a real home. But she can't give it up. It's a part of her. She can't let other people win…the town or her father. When it's clear that she won't give in, Rory comes in and thinks of ways for her to keep her store.
"What about Hard Cover?"
"I sell paperbacks."
"Maybe you can expand to bring in some coffee table books. The really pretty expensive ones."
"Are you trying to make me and my store over into something I'm not?" I gestured to the dress. "I'm not high end. I'm low maintenance.'
It took me a while to get into Hard Cover, but it does pick up. I loved Dawn as a character and I liked Rory. I'm not really into pretty boys with too much money on their hands. Especially the ones who always get what they want, but Rory grows on you. He ended up surprising me by the end. He didn't judge Dawn and never asked her to change. And the way he is with his sister is sweet and loving. Nothing like his parents…who I did not like.
Hard Cover is one of those books you can't judge by the cover. If I did that, I would have immediately passed it up. For those who love when opposites attract, this is the book for you!

Book Info:

Publication: November 21st 2017 | Loveswept |
He can read her like a book. But will he give her a happy ending?
Dawn: I'd do anything to keep my bookstore. It's a safe place for all women, somewhere to let their freak flags fly. I call it sex-positive. The menfolk call it smut. That's how I met Rory Parker, the local billionaire trying to shut me down on behalf of the "moral majority." He walked in with an offer I couldn't refuse . . . except I did. Now Rory wants to play dirty. Well, he picked the wrong bookseller. Let's see how much support he still has after people get a load of the little movie I recorded of the two of us going at it like wild animals in my shop.
Rory: I could care less how Dawn Nolan makes her money. The only thing I care about is how much she's making. Her bookstore isn't the kind of upscale attraction my investors want in this sleepy little tourist trap, so it's got to go. But when Dawn personally finds out how I treat bad girls who misbehave, she seems to enjoy it as much as I do. Now I just need to destroy the copies of that video she's threatening to post—as soon as I stop watching it. The trouble is, when I'm with her, all I want to do is get started on the sequel.