Hard Hitter by Sarina Bowen throws two people together in a one-of-a-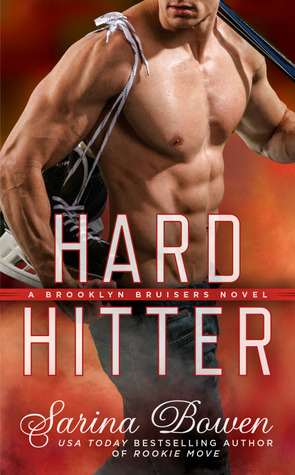 kind romance that will leave readers aching to read it again. This is book two in the Brooklyn Bruisers Series but can certainly be read as a standalone. As a romance reader, I haven't read many hockey romances that I have enjoyed, but Hard Hitter has changed that for me.
Ari Bettini is a massage therapist and yoga teacher who just ended an eight year relationship with her boyfriend. The boyfriend was controlling and abusive, so she did the right thing. Too bad the boyfriend has no plans to leave Ari alone. Ari just wants to focus on her job and get O'Doul to show up for his appointments.
Patrick O'Doul doesn't liked to be touched, so when he's forced into seeing the team's massage therapist, he is't happy, but Ari isn't the average massage therapist. She's easy going, beautiful, and has magical hands. With O'Doul being the captain to the Brooklyn Bruisers, he needs to be in fighting form and eventually Ari helps him through their sessions. O'Doul is definitely a one-of-a-kind hero. He might be closed off but he fights for his team and when Ari is in trouble, he fights for her. When he realizes Ari is in trouble he rushes to side and before they know it, their attraction to each other is out in the open.
"The problem is that I already get boned up on your massage table. Next time you put your hands on me at work I'm gonna start moaning like a porn star."
Their is no second guessing the chemistry between O'Doul and Ari, but there are issues they need resolve if they wish to continue their relationship. More specifically, dealing with Ari's ex-boyfriend who ends up blackmailing O'Doul and making their situation much harder.
The story is well-written and filled with endearing characters who will steal your heart. I loved everything about this story, from the heat to the banter and I will definitely check out the next book in this series! If you enjoy hockey and romance, you will go nuts for this book!

Book Info:

Publication: January 3rd 2017 | Berkley | Brooklyn Bruisers #2
He's a fighter in the rink, but he's about to learn that playing nice can help you score…
As team captain and enforcer, Patrick O'Doul puts the bruise in the Brooklyn Bruisers. But after years of hard hits, O'Doul is feeling the burn, both physically and mentally. He conceals his pain from his coach and trainers, but when his chronic hip injury becomes too obvious to ignore, they send him for sessions with the team's massage therapist.
After breaking up with her long-term boyfriend, Ari Bettini is in need of peace of mind. For now, she's decided to focus on her work: rehabilitating the Bruisers' MVP. O'Doul is easy on the eyes, but his reaction to her touch is ice cold. Ari is determined to help O'Doul heal, but as the tension between them turns red hot, they both learn that a little TLC does the body good…