In Hard to Be Good (Hard Ink #3.5) by Laura Kaye, Jeremy Rixey came close to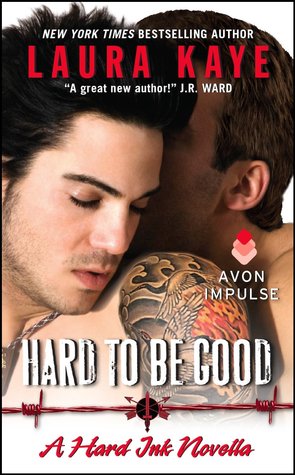 losing his brother Nick last year to a bombing overseas. Now the remaining members of that Special Forces unit have banded together and are camped out at the Hard Ink Tattoo building he and Nick own. Trying to solve the mystery behind the threats against their lives, Jeremy is doing whatever he can to help. In the midst of the loss and pain, he has found peace in being near Charlie Merritt. It's probably not the right time to start a relationship, but Jeremy can't let go of the reserved man who has captured his attention and his heart.
"Are you sure you're not just a dream?" He winked.
Smiling, Charlie shook his head. "I've been thinking the same thing about you."
Jeremy cradled his face and his expression went serious. "I'm real, Charlie. This — what's happening between us — is real."
Computer wiz Charlie grew up with a demanding father who never understood his career choice or his lifestyle. So the last thing he wants to do is make things more difficult on the Hard Ink guys who risked their lives to save him when he was kidnapped and tortured. Acting on his feelings for good-natured Jeremy might cause a rift in an already rocky situation. The longer Charlie is around him, though, the more it becomes clear that they cannot overlook the chemistry growing between them.
"I wouldn't change a thing that happened," Charlie said. "Because you are everything to me, and you were worth it all."
Although I have loved every single Hard Ink book so far, this is the story I've been waiting for. Charlie and Jeremy. Two genuinely lovely characters who found each other in the midst of chaos. Cue the tears.
Jeremy and Charlie have become fan favorites, as you're well aware if you've been following this series. Between the horror of Charlie's kidnapping and torture at the outset and Jeremy nearly losing his life in the previous book, you just want to see something good happen for these two deserving guys. I know this romance won't appeal to everyone, given that it is M/M and may seem controversial. Yes, there are love scenes that are fairly explicit. But it wasn't done in a crass manner. There was so much tenderness in Charlie and Jer's relationship, with them truly caring for each other, that the love between them outshone everything.
The scenes when Charlie and Jer were being honest with each other about their feelings and their fears were my favorite. Laura Kaye is such a talented writer that she moved me to tears at times with how raw and powerful those emotions came across. I felt that sense of wonderment along with Jeremy and Charlie as they realized they were in love. A first for them both. For as touching as those scenes were, though, there was still a good amount of the humor and flirting that Jeremy was known for. I loved that he was able to make Charlie laugh and smile, even with the grim situation they were all in.
I hope Hard Ink fans agree that this novella was well worth the wait. There are not enough adjectives in the world to describe how wonderful this love story was. And I'm sure things will keep heating up for this series. Next will be Beckett and Kat's story this summer. Can't wait!
Book Info:

Published April 14th 2015 | Avon Impulse | Hard Ink #3.5
Hard Ink Tattoo owner Jeremy Rixey has taken on his brother's stateside fight against the forces that nearly killed Nick and his Special Forces team a year before. Now, Jeremy's whole world has been turned upside down—not the least of which by a brilliant, quiet blond man who tempts Jeremy to settle down for the first time ever.
Recent kidnapping victim Charlie Merritt has always been better with computers than people, so when he's drawn into the SF team's investigation of his army colonel father's corruption, he's surprised to find acceptance and friendship—especially since his father never accepted who Charlie was. Even more surprising is the heated tension Charlie feels with sexy, tattooed Jeremy, Charlie's opposite in almost every way.
With tragedy and chaos all around them, temptation flashes hot, and Jeremy and Charlie can't help but wonder why they're trying so hard to be good…