In Hard to Come (Hard Ink #3) By by Laure Kaye, Derek "Marz" DiMarzio lost more than just part of his right leg in a bombing back in Afghanistan. As if that wasn't enough, he also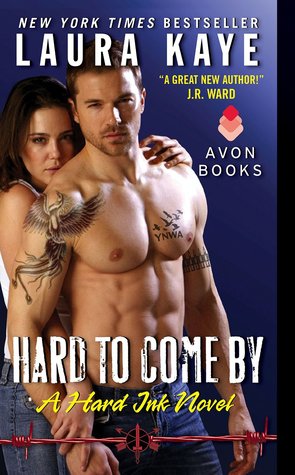 lost his career in the Army Special Forces and lost contact with his teammates, his brothers-in-arms, for almost a year. But ten days ago Marz and his former team regrouped to figure out who was behind the cover up that ended their careers. When their search leads them to an influential gang, The Church, and local Army vet Manny Garza as possible culprits, Marz gathers intel by befriending Manny's sister Emilie. Unfortunately, he never expected the incredible chemistry that would develop between them, leaving him conflicted over pursuing what could be the most important relationship of his life.
"I love you, Derek."
"Again," he rasped, lowering himself until his forehead rested on hers. "Please."
Her arms surrounded his shoulders. "I love you, Derek."
He shuddered out a breath. "I have waited thirty-two years to hear another human being say those words to me."
Emilie Garza has noticed the distinct changes in her brother Manny since he arrived stateside a while ago. As a clinical psychologist, she knows what he saw overseas is enough to cause numerous emotional and mental issues. But she can't seem to talk him or their mother into doing anything about it. Dealing with trust issues stemming from her divorce, Emilie is shocked when handsome and charming Marz asks her out on a date. She's not sure she is ready for a relationship but what harm could one date cause? Quite a bit evidently. Her world is then torn apart when Marz comes clean, explaining the investigation involving Manny and the horrible things he may have done. Can she trust Marz to protect her when her life is threatened or should she stay true to her brother?
'Part of her didn't want to know all the vivid details of what Manny had done, but a part of her needed to know, needed proof that her belief that he was troubled had been correct.'
I think Hard to Come By might just be my favorite Hard Ink book. So far. Although I seem to say this with every new story about these gloriously talented–and hot!–alpha men. But Marz and Emilie's touching story is going to be a tough one to beat.
God bless Laura Kaye for introducing us to former Army Special Forces guys Nick, Shane, Easy, Marz, and Beckett. Seriously. There was something so intriguing about them when they operated as a well-oiled machine, while trying to prove their innocence in the event that ended their careers. Previous novels have introduced us to them all, but this time around we get to know Derek DiMarzio a whole lot better. I will caution that there is quite a bit of a backstory to this plot, so it may be easier to read this series in order. You can probably get away with not doing so, but it will be harder to follow along.
I'll just come right out and say that I absolutely adored Marz. He was a man who cared deeply about his Army brothers but didn't have a true family to call his own. He was actually pretty lonely, wanting to belong to someone, although he didn't let it get him down. The way he used his wicked sense of humor to diffuse situations and make people comfortable made him so likable. I think Marz was one of the most selfless characters I've read about in a long, long time. I mean, the guy had just about half his leg blown off when he saved his best friend Beckett. Not to mention the numerous times in this book that Marz stepped in to rescue someone. He was a genuinely nice guy who took other's feelings and well-being into account. Emilie never stood a chance of not falling for him…
Emilie was another highly likable character. I thought Ms. Kaye did a nice job of painting her as a strong, highly intelligent woman who could take care of herself and make tough choices. The whole situation with her brother was a bit heartwrenching to watch. So seeing Emilie blossom as she fell for Marz was a pretty wonderful thing. The trust they began to build shattered when she learned the truth about the Hard Ink guys' investigation, but I loved that the bond she and Marz had was strong enough to continue to grow. And holy cow were their love scenes hot! I mean…really, really HAWT!! Marz had such a wonderfully dirty mouth. I'm still blushing over a couple of their scenes together. 😉
Author Laura Kaye writes some of the most perfect alpha men ever, and the loveliest strong & sassy ladies in romance today. If you want a book with it all: suspense, sex, humor, and camaraderie, definitely check out Hard to Come By.
Book Info:

Published November 25th 2014 by Avon | (Hard Ink #3)
Caught between desire and loyalty…
Derek DiMarzio would do anything for the members of his disgraced Special Forces team—sacrifice his body, help a former teammate with a covert operation to restore their honor, and even go behind enemy lines. He just never expected to want the beautiful woman he found there.
When a sexy stranger asks questions about her brother, Emilie Garza is torn between loyalty to the brother she once idolized and fear of the war-changed man he's become. Derek's easy smile and quiet strength tempt Emilie to open up, igniting the desire between them and leading Derek to crave a woman he shouldn't trust.
As the team's investigation reveals how powerful their enemies are, Derek and Emilie must prove where their loyalties lie before hearts are broken and lives are lost. Because love is too hard to come by to let slip away…