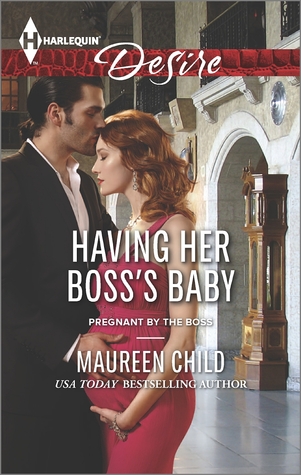 Having Her Boss's Baby by Maureen Child: Is it possible to give someone something you never experienced? Is it possible to be someone you never thought you could be?
Aine Donovan was Irish to the core, from the Gaelic of her name right down to the fire in her temper. When the Castle/hotel she was managing was bought by three rich gamers who were going to do "renovations" she knew she was going to have to be strong to preserve "her" castle. What she never realized was how strong she was going to have to be to preserve her heart.
Brady Finn was a loner. Yes, he considered his business partners friends and all but family but that was it. There were no relationships in his personal life, period. It was better that way, no one got hurt that way. His business was growing and they were making a lot of money so the partners were going to diversify again, this time to hotels. Brady never realized this venture was going to be once in a lifetime.
When Aine and Brady meet the fire is obvious to anyone within a hundred miles. Yet as boss to worker they know nothing can ever come of it, right? Yet as time progresses quickly so does there relationship and when one night freaks Brady out, well what he doesn't know won't hurt anyone but Aine, right?
Wow! Ms. Child has done it again. From her descriptions of scenery so vivid you would think you are there. To the dialogue and brogue that make you feel like you are in a pub in county Claire. As always her characters that will warm your heart, after you want to beat them that is. This is a book that is not to be missed. In truth there isn't much sexual about it but the romance and the reality is something very true. Pick up this one but be ware, it is the first in a trilogy so if you read it now you will be like me anxiously awaiting the next book, although there is NO cliffhanger here. For a taste of Ireland and a touch of love pick this one up.

Book Info:

 August 4th 2015 | Harlequin | Pregnant by the Boss #1
She's pregnant…by the boss! Only from USA TODAY bestselling author Maureen Child!
Billionaire game designer Brady Finn's latest business plan doesn't include a feisty Irish lass who challenges him at every turn. But Aine Donovan, the stunning manager of the hotel he just purchased, is as determined to prevent Brady from ruining tradition as Brady is to have her in his bed. When a no-strings fling leads to an unexpected pregnancy, Aine runs from her sexy, stubborn boss. What Brady doesn't know won't hurt him, right? But Brady won't give up on claiming her—and their child—so easily…