Hazardous Holiday by Liz Johnson: One of the wonderful aspects of writing reviews and reading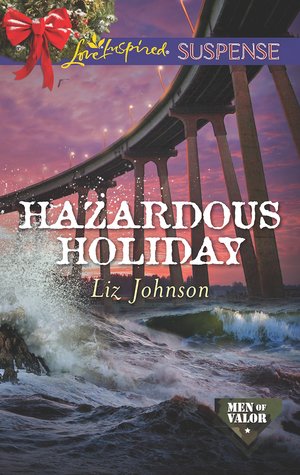 is discovering different talented authors. And, there seems to be a real trend with Harlequin books to include characters who serve our country, and I love seeing the respectful way Harlequin authors incorporate these characters.
In "Hazardous Holiday', readers meet Kristi, a widowed single mother caring for her young and very ill son Cody; Cody is on the transplant list waiting for a heart, and he is running out of time. Zach is Kristi's late husbands' cousin, who has for many years secretly been in love with Kristi. Zach and Kristi marry quickly before he is re-deployed as a Navy SEAL, so that Kristi and Cody have access to strong insurance and top notch surgeons. Unfortunately, Kristi and Cody start becoming the target of shootings aimed at them- Kristi at first believes she is the target of a drug criminal turned down by her law firm for representation. However, it soon appears that Cody is the target- and for very sinister reasons.
I recommend this beautiful yet fast paced story to readers who are seeking romance with very true to life characters.
Book Info:

Publication: December 6, 2016 | Harlequin Love Inspired | Men of Valor #5
Just in time for the holidays, navy SEAL Zach McCloud returns home from deployment—and discovers someone wants his family dead. When he married his cousin's struggling widow, he vowed to help her and her seriously ill son, and now he'll risk everything to protect them. Even if their arrangement is only temporary. Kristi Tanner's certain an unhappy client from the law firm where she works is determined to hunt her down. But when a sniper bullet wildly misses its target, they begin to question whether it's really her someone wants dead. Working together, can they figure out why they've been attacked…and keep little Cody from the nefarious forces dead set on making this Christmas their last?