In Head Over Heels by Jill Mansell, In Upper Sisley, a quaint little village in the Cotswolds, life is about to change dramatically for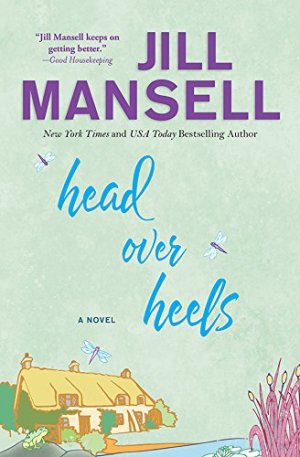 several of the locals as soon as movie star Toby Gillespie and his family move to town. Starting with Jessie Roscoe and her twenty-one year old son Oliver. The things is, she's never told her son who his real father is, nor did she let on to Toby or contact him over the years to admit that they have a child together. Finding out the truth throws them all a bit out of sorts but it's the incredibly strong chemistry between Jess and Toby that really creates havoc. And it ends up setting into motion a chain of events that will change both of their lives, and that of their loved ones, forever.
"Oliver's my son," Toby said.
"Of course he's your son."
"I came face-to-face with him today. No warning, nothing."
"I didn't have time to tell you, did I?" Jessie protested.
…Finally he said in a low voice, "Jess, you've had twenty-one years to tell me."
Meanwhile, Jessie's best friend Lili Ferguson is experiencing some marital woes of her own with the arrival home of her husband Michael. He travels for weeks and even months at a time for work so she should be happy to have him about. But he seems to just add to her stress level these days. Also adding to it are her three rowdy children and her opinionated mother-in-law. And it's a recipe for, well, maybe not disaster, but certainly a horrible headache. With her BFF Jess dealing with her own drama, Lili tries to sort her life out on her own. But secrets her husband has been keeping along with the craziness in town–mainly thanks to the Gillespie clan–pushes her to make some life-changing decisions of her own.
'Knowing that you couldn't have someone–or that you could have them but it would be a relationship doomed to end in failure–didn't stop you loving them so much it hurt.'
A reissue from 1998, Head Over Heels was a highly entertaining story set in a crazy little village in the Cotswolds, England, which focused on the complicated relationships, secrets and scandalous romances of the locals there.
"You love me, but you don't trust me. You see, that's the difference between us, Jess. I love you *and* I trust you. I've always loved you–more than you'll ever know."
Now this book was classic Jill Mansell all the way. We had a huge cast of offbeat but (mostly) lovely people in a wide array of predicaments, some comical and some not so much. Where it was set in a small village it seemed everyone was involved in everyone else's business, as you would expect, and it made things a lot of fun. It was like a madcap British comedy mixed with a soap opera. Speaking of soap operas, I will warn that there was quite a bit of cheating going on among the cast so readers who are sensitive to that subject should beware. And this did deal with some gay and transgender issues briefly (and those villagers who were not tolerant of it) so it bears mentioning.
Told through multiple POVs, the main couple we kept coming back to was Jessie and Toby, although her best friend Lili was a huge part of the story as well. This was a second chance romance for Toby and Jessie but there were some complications. Including of course his marriage to Deborah and their kids. I really got a kick out of Jessie and thought she was great, with her abundance of inner strength and how she always wanted to do what was right. It was interesting to see how Toby finding out that Oliver was his son with Jessie affected so many other people around them and to watch as it all played out. I did enjoy the ending and thought that all the characters either got their well-deserved HEA or their comeuppance, as the case may be. 😉
You can always count on one of Jill Mansell's books to keep you glued to the pages, laughing and crying along with the charming characters she creates. If you love lighthearted women's fiction with ensemble casts, Head Over Heels would be a great addition to your TBR.

Book Info:

Publication: September 5th 2017 (first published 1998) | Sourcebooks Landmark |
Jessie has kept the identity of her son Oliver's father a secret for years. She's stunned when she discovers that the man in question, actor Toby Gillespie, has just moved in next door. The truth's about to come out. One glance at Oliver, and a little mental arithmetic, and Toby has the situation sussed. Meeting the son he never knew he had is the shock of a lifetime. It's a shock, too, for Toby's wife, the beautiful Deborah, though she seems to take it in her stride. Would Deborah be so relaxed if she knew just how close Toby wants to get to the mother of his firstborn? As the attraction between them flares up again, Jessie just can't see her way to a happy ending. But no one is quite what they seem, and there are more surprises to come!