In Healing her Boss's Heart (Sinclair Hospital Surgeons #2) by Dianne Drake, Dr.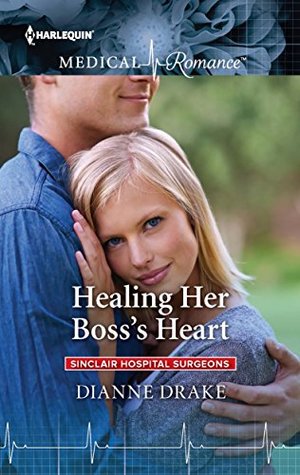 Jack Hansen isn't looking for love when he returns home, but somehow he finds himself falling hard for Carrie Kellem; a woman whose tough childhood has made her the strong, independent woman she is. But as Carrie does her best to prove she doesn't want to be alone anymore, Jack is determined to keep things strictly professional between them for fear of losing another person he loves. Will Carrie be able to win Jack's heart, or will he deny himself a second chance at happy ever after?
"You, the person who doesn't follow orders. So, tell me. How am I going to deal with that? Because there's no room for it in my program."
"Sounds like you've just accepted me."
"Maybe I have."
"In that case, all I can say is I'll try to do better. I want this. I don't want to go over the top and ruin my chances. So I'll do everything I can to make sure I don't."
"Won't that be fighting the natural woman? Because I see what you're made of, and I'm not sure you can fight it."
What an enthralling and fast-paced read Ms. Drake has delivered in this second book of her Sinclair Hospital Surgeons series that drew me in right from the beginning and kept me entertained all the way to the end because of the wonderful main characters that have been through so much in their lives; the well-written dialogue that had me loving the obstacles this couple face on their journey to happy ever after; and the ending that took me by surprise due to what happens to one of the main characters. The way this story started had me liking the hero and heroine straight away, as they have such intense chemistry that just keeps getting better; as Carrie does her best to get to know Jack better and the hero does his best to keep things professional between them. Will Carrie or Jack get their way?
Both the main characters were compelling, and I loved the challenge Carrie provides Jack, as they get to know each other better and Jack sees Carrie for the strong and independent woman she is because of the struggles she's faced in her life that made her want to be the best person she can be. Moreover, the heroine is resilient, courageous and I liked how determined she was to prove how good she is at her job and how she could handle anything Jack threw at her when it came to the program he's going to run that she's going to be a part of. Yet, what I liked most of all about the heroine is that she's good for Jack and is someone that can get him to start living life again and stop feeling guilty for what happened in his past.
"He turned back to face her. "Do you ever let up on yourself?"
"What do you mean by that?" she asked, almost defensively.
"You know, give yourself a break? Take time off trying to prove yourself so you can enjoy what you've already proved?"
"That's not fair. I work hard to get what I want. That's what I'm about. Who I am. And when I find deficiencies, I try to overcome them."
"But to what end, Carrie? Will you ever be satisfied with yourself?"
While the hero, he's lost people that were important to him and it's hard for him to deal with that fact. The guilt he feels is understandable and made me sympathize with him. Yet, in saying that, there were times when he was a little too hard on himself, especially when he interacts with people that know him really well like his best friend Palloton and when the heroine pushes him to see that continuing to blame himself for what happened to his wife and child is no way to live. Will Carrie be able to get through to Jack? Will he see that he deserves a second chance at love? I also liked the tight relationship the hero shares with his grandmother and that he would do anything for the woman.
Overall, Ms. Drake has delivered a captivating read in this story where the strong chemistry and nicely-crafted romance between this couple made me happy Jack was finally willing to give love another chance; and the ending had me worried for one of the main characters because of what happens, but had me liking how Jack made things right between him and Carrie by finally opening up to the heroine about his past and why it's kept him from moving on again with another woman until her. I would recommend Healing her Boss's Heart by Dianne Drake, if you enjoy second chance romances or books by authors Amy Ruttan, Susan Carlisle, Louisa Heaton and Charlotte Hawkes.

Book Info:

Publication: January 1st, 2018 | Harlequin Medical | Sinclair Hospital Surgeons #2
Daring to love again…
When handsome surgeon Jack Hanson returns home, he's not looking for love. His guilt over his wife's death means he's never going to risk his heart again! But feisty new employee Carrie Kellem can't help but intrigue him…
Carrie's tough childhood has made her independent; she doesn't need anyone! Until she meets Jack… And suddenly Carrie wishes she wasn't alone. Can she help Jack to let go of the past and see that he has a future with her?